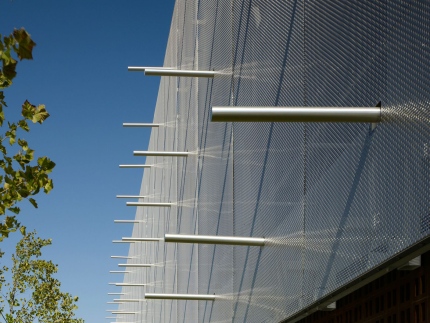 Architectural wire mesh produced by HAVER & BOECKER offers a broad range of possibilities to realize your ideas for semi-transparent façades, ceilings, walls or other design applications. The metallic appearance of stainless steel mesh solutions gives your project a unique character, playing with transparency and opacity.
Our knowledge and experience of wire weaving and ready to install wire mesh elements enables us to act as a reliable partner at every stage of your project: from the initial concept right through to an on time installation of our metal mesh.
Projects can completely be transformed by the aesthetic and technical features of H&B Architectural Mesh. It enhances a building and gives it immense individual character combining light reflection, contrasting materials and high functional values.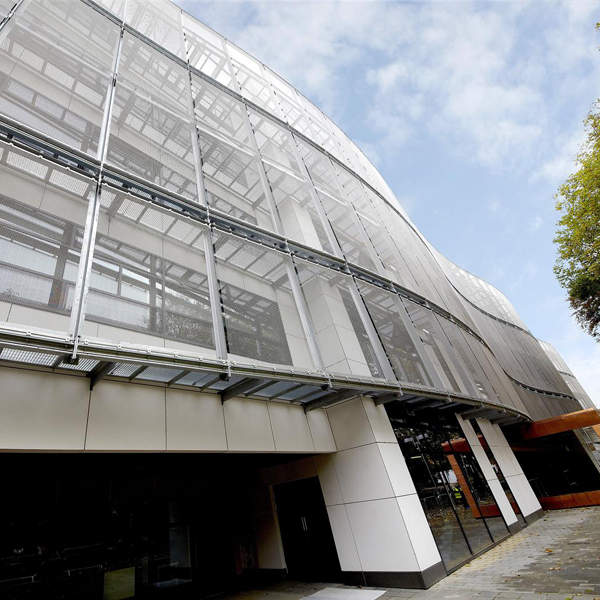 Holland Park School: The wave-like wire mesh cladding softens the geometry of the building and creates an effective aesthetic sun protection screen made of stainless steel wire mesh.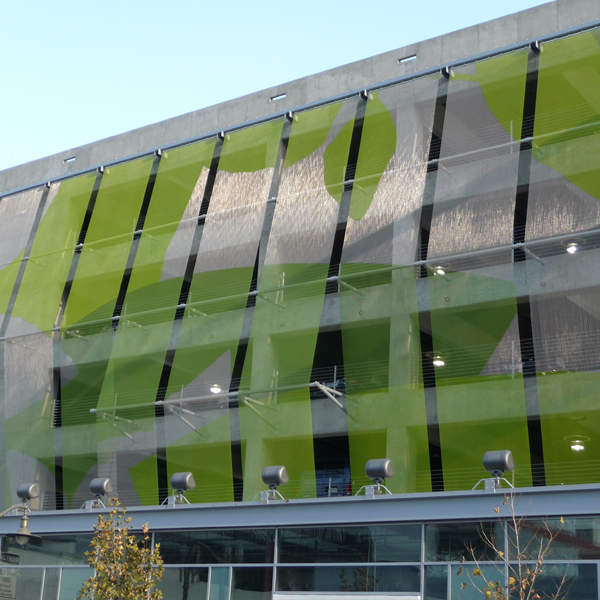 Los Angeles Police Department: Architectural wire mesh offers a unique play with colour, light and shadow as well as density and transparency.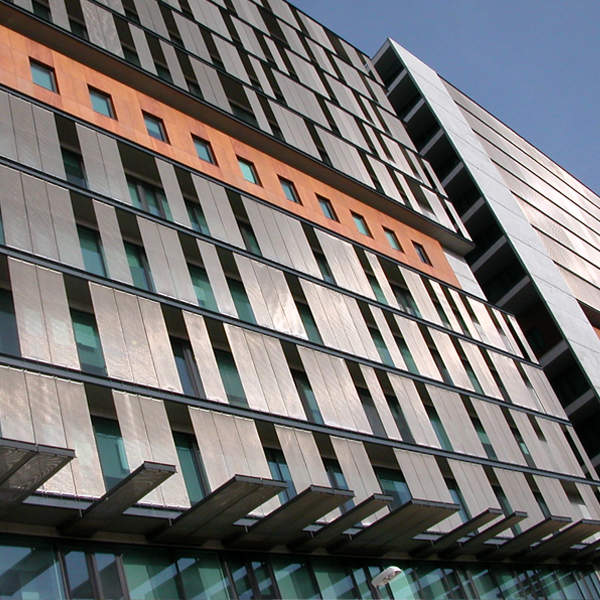 Expoland Lissabon: Woven wire mesh can be used to filter sun rays, creating an aesthetic sun protection screen while maintain a cool, comfortable temperature in the area behind it.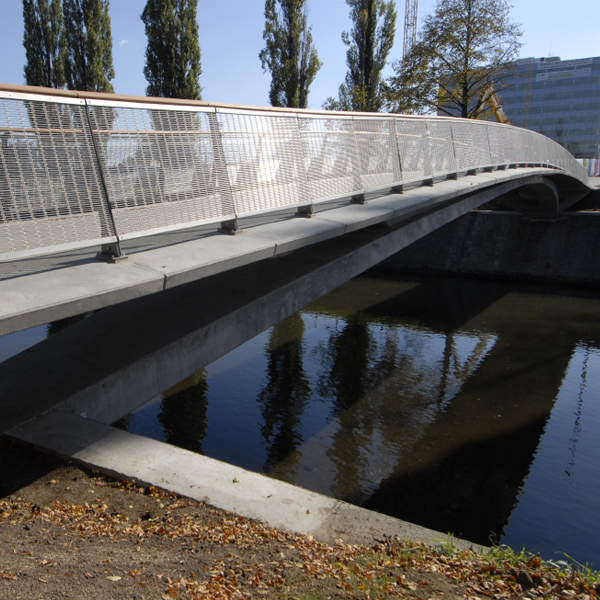 Svratka River Bridge: Architectural mesh made of stainless steel offers a secure solution for balustrades and guardrails.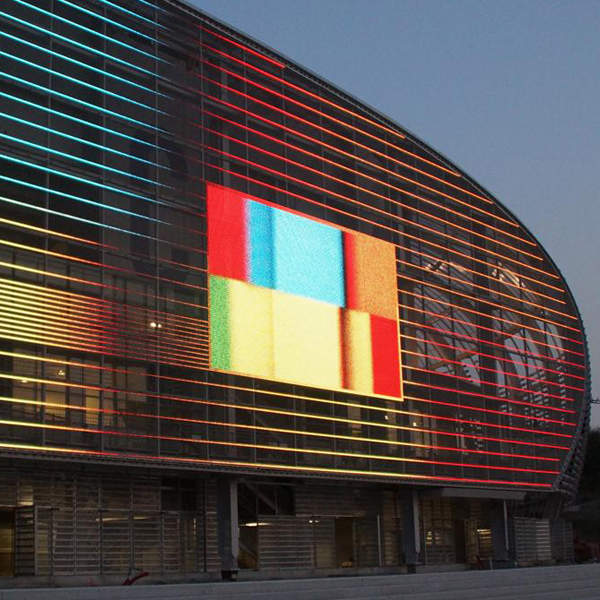 Stade Pierre Mauroy France: Three different resolution areas of the transparent media facade IMAGIC WEAVE® medialize 2046 m² architectural mesh façade at Stade Pierre Mauroy, earlier referred to as Grand Stade Lille Métropole.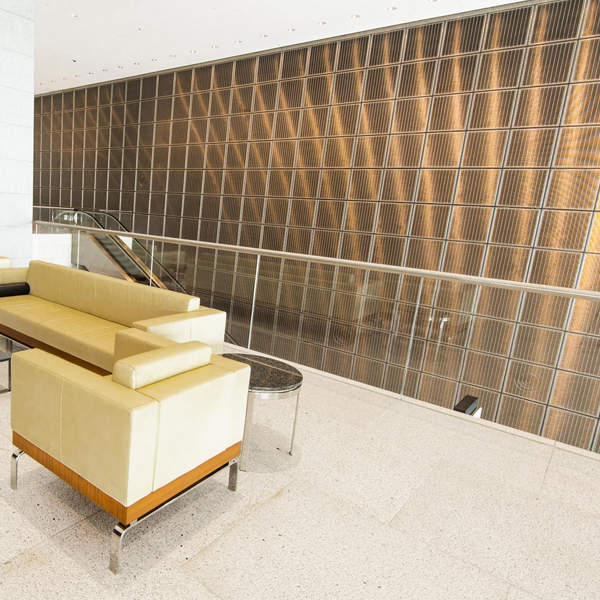 QNCC: Equipped with state-of-the-art acoustic material, wire mesh has brilliant sound absorbing effects. The functional sound absorbing material is hidden behind the high-class mesh.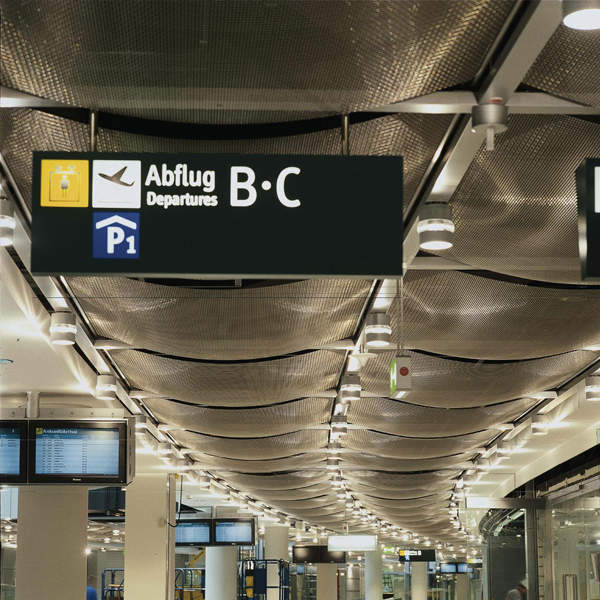 Airport Düsseldorf: A customised suspended ceiling system enables easy maintenance of installations above.
Unique aesthetic
Each stainless steel mesh got its own characteristics in terms of strength, transparency, surface finish and optical effect. This results in a highly attractive, yet strong and manageable material which is adaptable to virtually any interior or exterior design application.
The variety of wire mesh, colour design, customized solutions for mounting systems and the option of a transparent media façade offer you infinite freedom to create your individual wire cloth project.
Natural ventilation
Architectural Mesh is light, durable and transparent. The transparency of woven wire mesh allows it to act as a natural ventilation system. We are able to customize the open area of the chosen wire mesh so that the project-specific requirements of ventilation can be achieved.
Sun protection
Architectural Wire Mesh provides effective sun protection; filtering sunlight and reducing the heat within the building significantly. Anyhow the transparent nature of the mesh allows a good view from the inside.
Fall protection
Made from stainless steel, our woven wire mesh is incredibly strong, rigid and durable. H&B Architectural Mesh can be used as fall protection in parking garages, stair cases or balconies.
Transparent media façade IMAGIC WEAVE®
IMAGIC WEAVE® is a fusion of HAVER & BOECKER Architectural Woven Wire Mesh and the latest LED technology from Traxon Technologies which transforms façades into a mode of urban communication.
Due to the modular structure of the system, façades can completely or partially be designed as a media façade. Different resolutions can be combined within the media façade.
The IMAGIC WEAVE Media Screen appears as an elegant stainless steel mesh façade, even when no content is being displayed. The slim LED profiles are attached to the reverse side of the wire mesh maintaining the homogenous look of the façade at all times.
With IMAGIC WEAVE you are able to create an interactive façade capable of communicating with the surrounding area while serving as the building's second skin.
Improve acoustics
Along with its aesthetic qualities, H&B Architectural Mesh can also help to improve the acoustics of your building and conceal service equipment such as air conditioning or sprinkler systems and yet remain effective as a result of the woven wire cloth's open area. Whether supplied as flat panels, convex or concave shapes, or as cassettes, woven wire mesh can be used to enhance large or small areas.
Low maintenance and easy installation
H&B Architectural Mesh comes ready to install with complete and easy-to-follow instructions. We provide unique engineering support and calculations for each project based on your necessary requirements and offer onsite assistance to eliminate risk. Once installed, stainless steel architectural mesh facades require little-to-no maintenance.
Stainless steel mesh applications
Versatility and stability, robustness and exclusive optical properties make Architectural Wire Mesh the ideal material when designing spaces, surfaces and other functional elements: wall cladding and room dividers, railings and balustrades, exhibition and shop designs, sun protection, sound absorption and acoustic systems, signage, sculptures and aviaries.
About Haver & Boecker
Haver & Boecker has actively influenced the technology of wire weaving since its beginning. Based on expertise and more than 125 years of successful company history, today we are able to offer our customers the benefit of our unrivalled experience, technology and know-how about wire mesh. Our Architectural Mesh combines outstanding functionality with high aesthetic appeal, opening up new perspectives in creative design and enabling fascinating architectural solutions.
Are you interested in learning more about H&B Architectural Mesh?
Please use the form below to send us your enquiry.