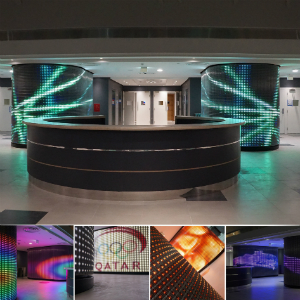 IMAGIC WEAVE® media elements by Haver & Boecker enhance the entrance hall of the multi-purpose arena of Al Sadd Sports Club in Doha.
The Ali Bin Hamad Al Attiya arena of Al Sadd Sports Club is a venue for the 24th Men's Handball World Championship, which will take place on 15th of January to 1st of February 2015, in Doha. The four-storied building, consisting of multi-purpose arena, gyms, restaurants and other facilities for medical care as well as for media and broadcasting facilities, was designed by the architect Al Khalil of James Cubitt & Partners. In the new multipurpose sports hall, with a total capacity of 7,700 seats, sports events like basketball, volleyball, badminton or hockey can take place.
Interior column cladding with IMAGIC WEAVE® HE
Eye-catcher of the main entrance hall are two luminous columns that will attract the visitor´s attention not only for the Handball World Championship 2015. Architectural wire mesh and the media façade system IMAGIC WEAVE HE by Haver & Boecker was used to enhance the two concrete columns.
The short visitor´s distance to the columns and the oval shape set special requirements to the used system. Accordingly, the extremely short and different viewing distances of the visitors had to be taken into account. Due to the excellent colour mixing and the large beam angle, the IMAGIC WEAVE HE system is perfectly suitable for this situation. The stainless steel wire mesh EGLA-TWIN 4212 Vario was used for the 2.50m high column claddings. The special feature of this project was the seamless adaption of the wire mesh and the IMAGIC WEAVE components to the oval shape of the columns.
Haver & Boecker eased this challenge by using stainless steel frames and vertically aligned LED profiles. To mount the usually horizontally installed LED profiles as close to invisible as possible, a specific framework was designed that exactly accommodates the LED profiles.
For the two column claddings Haver & Boecker supplied 58m² IMAGIC WEAVE as prefabricated frame elements. In addition to installation training, site support and commissioning for the IMAGIC WEAVE media façade system, the local customer was supported by Haver & Boecker with on-site system trainings.