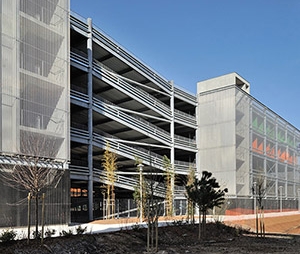 Specifically planned through sustainable architecture and green spaces, a new residential area has been built south of Bordeaux, offering the residents a better quality of life.
The parking garage in this new ecologically sustainable area, known as "Terre Sud", is enveloped in 3,265m² of façade cladding, which appears to be closed from the outside but looks transparent and allows natural ventilation from the inside. The product chosen by BBCR architects is semi-transparent architectural wire mesh.
Together with Haver & Boecker, they developed LARGO-NOVA 2035 made from high-quality stainless steel. This specially designed wire mesh fulfils the requirements of the façade cladding due to its open area of 59%. The wire mesh ensures natural ventilation, as well as natural lighting.
"We have designed a car park that combines savings of space and energy. As one example, the parking decks are naturally lit. The outer skin of the building made of architectural wire mesh provides brightness and elegance. It is conceivable to use the structure for different needs, such as an office space," said architect Daniel Berguedieu.
For more information please contact Haver & Boecker.