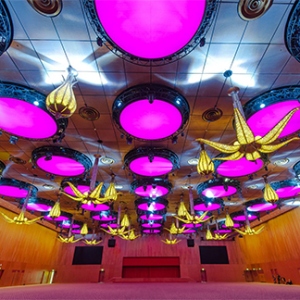 The ceilings and walls inside the Qatar National Convention Centre are clad with 6,000m² of architectural wire mesh made by Haver & Boecker.
Cassettes of bronze wire mesh were installed in the Conference Hall. To accommodate the multifunctional use of the room, many customized solutions were required for the ceiling and corner cladding. EGLA-MONO 4391 has a flat surface on one side, which creates a very homogenous appearance.
The architectural wire mesh was coated with clear varnish and glued to black-coated aluminium frames. Acoustic protection within the ceiling cassettes and wall cladding, achieve noise-reducing effects and improve the acoustics.
To meet the exclusive requirements of the room's ambience, the designers chose bronze and stainless-steel wire mesh. The high-quality aesthetic of the architectural mesh, as well as the excellent long-life properties, non-flammability, easy maintenance and recyclability, made choosing Haver & Boecker wire mesh an easy decision for the client.
So as not to affect the homogeneous appearance of the decorative wire mesh claddings, Haver & Boecker developed a special invisible fastening system whereby the cassette elements remain removable.
For more information, please contact Haver & Boecker.