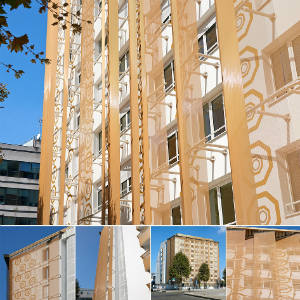 The housing shortage in many urban centers, and also in the greater area of Paris is a major problem, especially for young people.
To address this problem a new students´ hostel was built in St Denis, a vibrant and modern city in the north of Paris. Numerous cultural events and places of interest such as the Gothic Saint-Denis Basilica, the Cité Européenne du Cinéma or the Stade de France characterise the regional cityscape.
One striking feature of the newly constructed student accommodation is the golden façade on the south side of the building.
Architect Alain SARFATI chose H&B architectural mesh for the façade design. The golden façade is not only eye-catching but provides effective sun protection. To meet with the technical demands wire mesh type DOKA-MONO 1851 was selected.
The combination of a square mesh type and 64% transparency provides the façade with a homogeneous golden curtain. The architectural mesh follows the aesthetic holistic of the building without significantly compromising the view from the inside through the windows. To achieve the golden appearance the stainless steel mesh was given a coloured PET coating.
The complex geometry of 28 mesh elements, each with a length of 24 meters was tensioned at the substructure using flat tension profiles, clevis screws and pressure springs. For the required intermediate fixing round bars located behind the wire mesh were used.