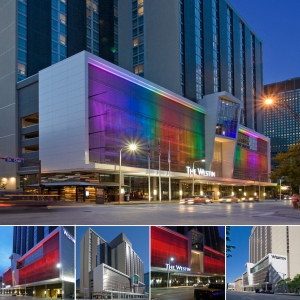 As part of an effort to provide the city with a premier lodging destination, Westin Cleveland Downtown went to great lengths to achieve its high levels of sophistication. The illuminated, eye-catching façade adorning Cleveland's newest four-star accommodations is the result of a fusion of multicoloured lights and architectural wire mesh from HAVER & BOECKER.
The designers specified DOGLA-TRIO architectural mesh for the façade. The architectural mesh allowed the designers to mask the parking facilities that span the second through fifth floors. Replacing the previous brick and metal cladding with an architectural wire mesh provided a textured and unique look.
"The architectural mesh afforded ventilation, fall protection and decorative value," Auvil said. Spectrums of rainbow-coloured lights embellish the metal mesh at twilight and in the evening hours to provide a bold, beautiful statement.
"There are 52 panels that stretch about 300ft and are about 60ft-70ft high," Auvil added.
"Each panel has its own LED light, which is lit with an infinite number of colours."
HAVER & BOECKER customised the DOGLA-TRIO offering for the Westin application.
"While the designers liked the characteristics of the DOGLA-TRIO, they requested a modified version to create different openings in one continuous panel," Wendy DeCapite, architectural area sales manager for HAVER & BOECKER said.
"The design team wanted a more dense version to cover the openings in the garage area and a more open version for the area in front of the sixth floor ballroom. Areas of the façade were also customised to incorporate signage attachments."
A robust and flexible weave, which gets its structure from clusters of vertical wires, DOGLA-TRIO architectural wire mesh was also showcased during installation. After connecting the mesh at the top of the area, installers simply rolled the product down to its final position. The lightweight mesh was then fastened at the bottom of the installation using HAVER & BOECKER's fully engineered flat tension profile and clevis assembly system.
By incorporating architectural wire mesh into the façade renovation, designers of the Westin Cleveland Downtown were able to turn the 'necessary evil' of a parking facility into an integral segment of the building design. The addition of multicoloured LED lighting helped transform the garage into part of the building's stunning décor.
An old building with a new lease on life, Westin Cleveland Downtown opened its doors for business in May. The building's eye-catching mesh façade, an eclectic décor palette and full amenities allow the hotel to make its own contribution to Cleveland's urban renewal. It is time for the hotel to write yet another chapter of its long, colourful history.
For more information, please contact HAVER & BOECKER.