Monodraught's range of systems includes Sola-boost natural ventilation systems, which are energy free systems that eliminate the need for air conditioning, as well as Sunpipe natural daylight systems.
No project is too big or too small, because each system is bespoke and made to order. Recent projects include work for schools, hospitals, universities, and sports halls.
Natural ventilation system
The Monodraught Windcatcher natural ventilation system channels a controlled quantity of fresh air into a room from roof level, whatever the wind's direction, and without mechanical assistance.
The Windcatcher is divided internally into four quadrants so that one or more face into the wind. Here, windward quadrants supply air under the action of positive wind pressure, and leeward quadrants extract stale air under the action of negative wind pressure. On still days, the Windcatcher acts as a conventional passive stack using the natural buoyancy of warm internal air to stimulate air flow out of the building.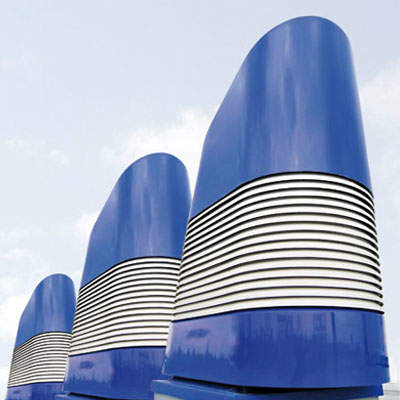 Windcatchers installed at Tesco, Cheetham Hill, providing a steady flow of natural ventilation to shoppers and employees.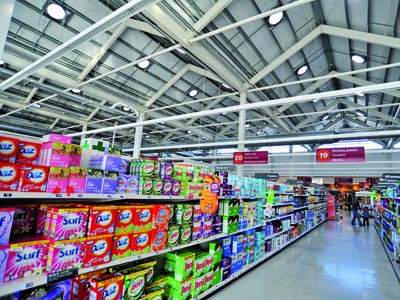 The 140 Monodraught Sunpipes installed in Sainsbury's Eco-store, Gloucester Quays, maximise natural daylight, save energy, and help the store to reduce its carbon footprint.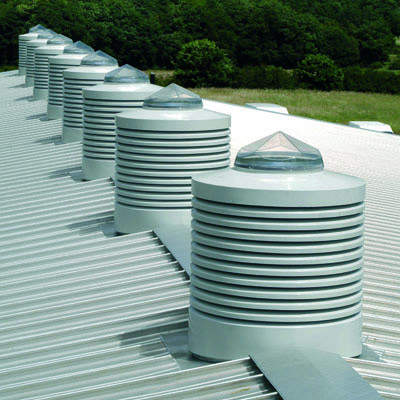 Suncatchers on St. Paul's Catholic School, Burgess Hill, maximise the natural daylight and ventilation in classrooms to help students concentrate and to provide a healthier atmosphere.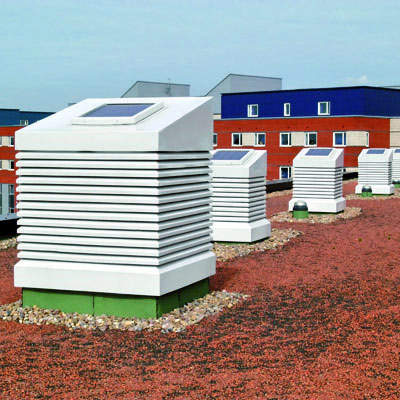 Sola-boosts installed on Lincoln innovation Centre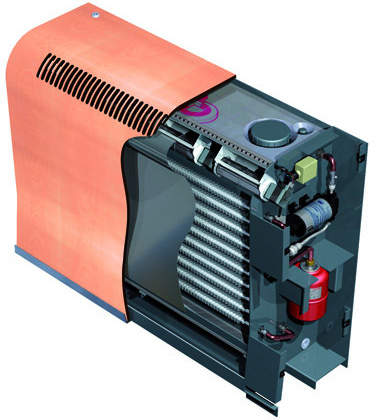 Standing Cool-phase cut-away show the PCM tank, heat exchangers, filter, internal dampers, and outer grille.
Volume control dampers located at ceiling level vary the rate of ventilation according to the building requirements. In addition, during summer months the dampers open at night to provide night time cooling, which can help to reduce peak internal temperatures. The Monodraught Windcatcher system can eliminate the need for air conditioning without compromising the security of the building.
Natural daylight systems
The Monodraught Sunpipe natural daylight system directs sunlight into a room from roof level. Here, the Sunpipe collects daylight using a patented Diamond dome, then it uses a silverised mirror-finished aluminium tube to transfer the light to a room, and finally a ceiling diffuser evenly distributes the light around the room.
The Diamond dome and diffuser also seal the Sunpipe from the ingress of rain, dust, and insects. The Sunpipe is effective in sunny, overcast, and rainy conditions, requires no maintenance, and is compatible with many building designs. For example, multi-floor solutions are possible and common, but some loss of transmittance will occur depending on the overall length of the Sunpipe. When compared against a roof light, a Sunpipe eliminates glare, significantly reduces heat gains in the summer, and minimises heat losses in the winter. The Sunpipe is manufactured in a wide range of diameters and Monodraught can provide a full design and installation service.
Natural daylight and ventilation system
The Monodraught Suncatcher system provides natural ventilation and daylight by combining the Windcatcher with a Sunpipe natural daylight into a single system. Therefore, the Suncatcher is able to simultaneously provide fresh air and natural daylight to a room, and extract stale air from a room. The range of Suncatcher systems follow the same sizing as the Windcatcher systems and can incorporate the full range of Sunpipe
sizes.
Solar-powered natural ventilation systems
In response to rising energy prices, Monodraught has incorporated solar power into their natural ventilation systems to create three additional products: Sola-boost, Sola-extract, and Sola-vent. The Sola-boost uses the Windcatcher technology in coordination with a solar powered fan to guarantee an additional supply of ventilation on sunny days, whereas the Sola-extract applied the same principals but uses its fan to extract air.
Monodraught's Sola-vent system is an integrated natural daylight and ventilation system, which contains a Sunpipe, a solar powered extract fan, and two compact-fluorescent down-lighters. The Sola-vent is ideally suited to internal bathrooms and shower rooms where it ensures that current Building Regulations for ventilation are met.
Passive cooling and heat recovery systems
Cool-phase is a low energy, intelligent, passive cooling and heat recovery system for use within Commercial, Academic and Health Care environments. The Cool-phase system was developed in collaboration with The University of Nottingham, BASF Ltd, and the Carbon Trust, and is Monodraught's answer to a mechanical air-conditioning system. Cool-phase provides powered fresh air ventilation, but can store and discharge large amounts of latent thermal energy by utilising a micro-encapsulated phase change material (PCM) slurry. The PCM can store up to 4kWh of thermal energy, and supply approximately 1kW of cooling. Incoming air is passed over a series of precision engineered spiral wound heat exchangers, through which the PCM is pumped. A significant difference between the temperature of the air before and after heat exchange can be achieved, using a fraction of the power required to run a conventional air conditioning system.
Zero-energy natural ventilation and daylight systems
Monodraught continues to demonstrate its commitment to the development of zero energy products and systems, with a focus on natural and solar driven products that make a valuable contribution to the energy crisis by helping customers to reduce costs, their energy consumption and the UK's carbon footprint. Monodraught achieves this by maximising naturally available energy from the wind and the sun, helping us all to build for a better future.