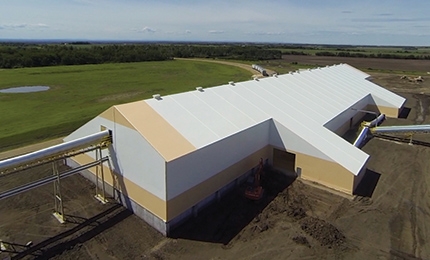 Legacy Building Solutions is a manufacturer of design-built fabric structures that are engineered, sold and installed by our in-house team.
Our structures are fully customizable, depending on the client's specifications and size requirements, and are considered permanent structures.
Each fabric building manufactured by Legacy meets the same environmental codes as other buildings, including those related to wind, snow and seismic load.
Customized fabric buildings
Legacy's structures are built on a rigid steel frame and designed to the exact size and shape specified in the project requirements.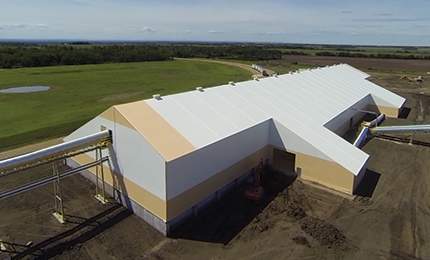 This state-of-the-art fabric structure has more than three million square feet of fractured sand storage capacity. It was designed in partnership with the building owner.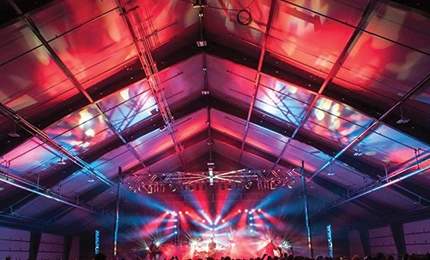 Fabric buildings can be used day and night. This concert venue hosts more than 70 farmers' market vendors during the day. Challenging soil conditions led to a floating slab foundation.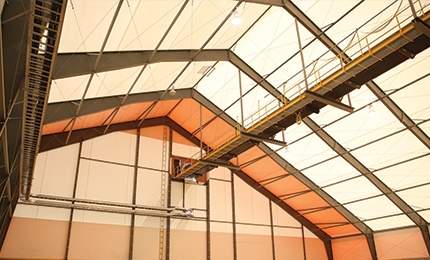 This fractured sand storage facility has an offset peak and three lean-to structures for maximum efficiency. The fabric building is engineered to stand against strong wind and heavy snow in Alberta, Canada.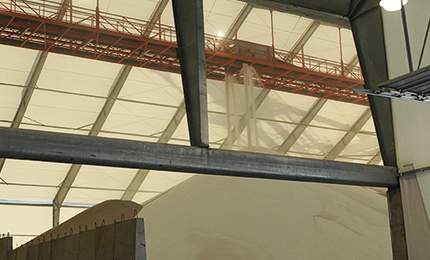 Jack beams support a lean-to building in this fabric fertilizer storage facility. Concrete pony walls increase the storage capacity and the conveyor efficiently moves the bulk material.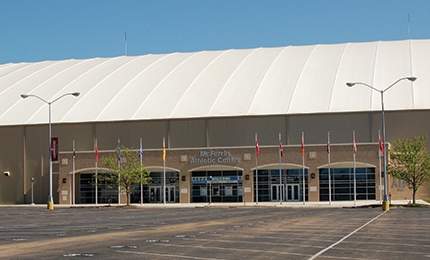 The addition of brick, stone, steel or other building materials help fabric structures to blend in with existing facilities. The fabric roof allows light in while maintaining a comfortable environment.
Our team has designed buildings that are more than 300ft wide in a variety of lengths. Eave height and peak clearance are also customizable, so additional space is available for equipment storage and vehicles to manoeuvre inside.
Fabric structures with offset peaks, lean-to buildings and varying legs
The number of possible shapes and designs of a Legacy fabric building is limitless. Different features, such as eave extensions and mono-slope roofs, give a building a unique look and increase its functionality.
Our structures can also be designed especially for operations that require an offset peak, one or more lean-to structures, and legs with different heights or other architectural features.
Hanging loads to a tension fabric building
Hanging loads from cranes, conveyors, lights, sprinklers, heating, ventilation, and air conditioning (HVAC) systems and other applications can be safely added to any customized structure by Legacy.
With our offset peak technology and experienced engineering, these loads can be placed anywhere for maximum efficiency.
Insulated fabric buildings
Using a fabric building is possible all-year round. Legacy's clients can simply specify a lined and insulated building to maintain the inside temperate with no ongoing costs.
Alternatively, heating and/or cooling systems can be added inside the building for total climate control.
Customized access point engineering
Legacy's straight side walls, custom engineering and optional jack beams allow access points to be installed anywhere in the building.
The following doors can also be installed as part of the structure:
Large doors:

Megadoors
Bi-fold doors
Rolling doors
Sliding doors

Multiple doors:

Personnel doors
Overhead doors
Garage doors
Fabric structure ventilation options
There are multiple ventilation system options available for Legacy's fabric buildings.
For passive ventilation, mesh soffits under the eaves and peak-ridge vents allow fresh air to circulate at no extra cost. Alternatively, one-piece air valves at the peak let air escape while keeping out wildlife and moisture.
Configured open or partially open endwalls or side walls allow large masses of air to circulate throughout the length of the building.
An alternative ventilation option comprises windows and mesh vents. Glass windows, screens and roll-up curtains can be installed anywhere, while mesh vents of any size are seamlessly added to the fabric walls.
Active ventilation options are also available, which include various types of fans, in addition to air intake and exhaust vents.
Additional building materials for fabric structures
Legacy's buildings are versatile enough to incorporate other cladding options, such as steel, stone or concrete. Adding other materials helps them to blend in with existing structures, while creating a unique look.
Combining building materials also increases the building efficiency. For example, concrete pony walls increase the load capacity of bulk storage buildings without increasing costs.