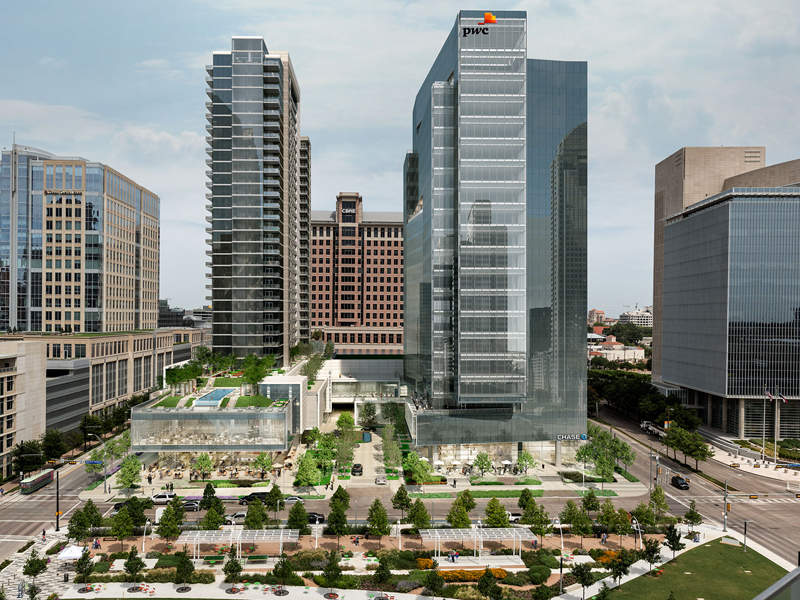 Park District is mixed-use development that includes an office tower and a residential building. Credit: Park District.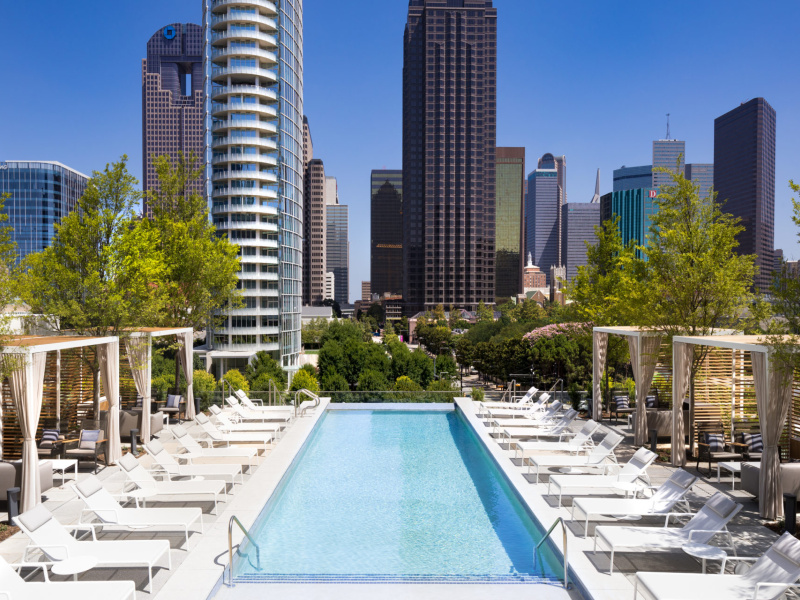 The apartment tower at Park District was opened in May 2018. Credit: Park District.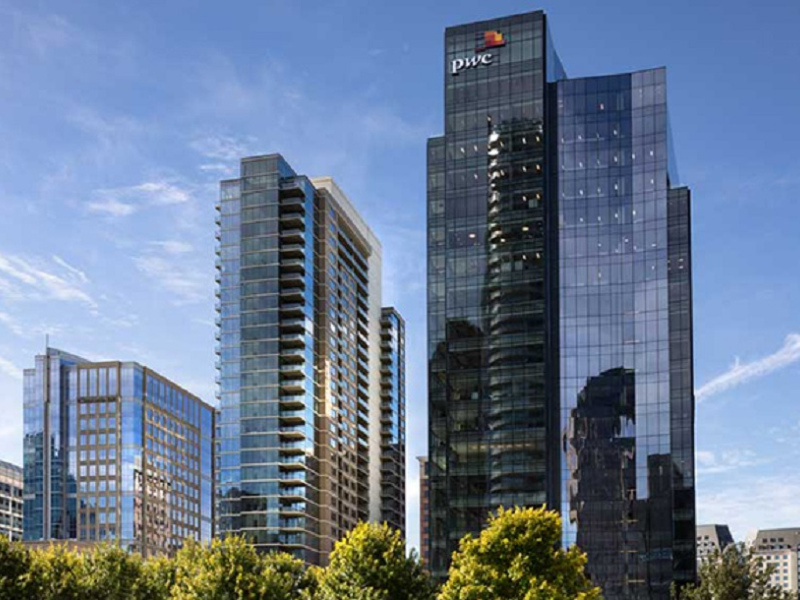 PwC is the main tenant of the office tower at Park District. Credit: Trammell Crow Company, LLC.
Park District is a mixed-use project located on North Pearl Street, downtown Dallas, Texas, US. The project covers two towers including a 20-storey office building, owned by PricewaterhouseCoopers (PwC), and a 34-storey residential tower.
Construction of the Park District officially began in January 2016. The apartment tower topped out in October 2017 and was opened for residents in May 2018.
Trammell Crow Company (TCC) and Met Life co-developed the mixed-use project.
Park District location
The Park District was developed on a three-acre site in North Pearl Street and is surrounded by Pearl Street, Olive Street, and the Klyde Warren Park. It also shares the neighbourhood with the Arts District and Uptown Dallas.
The project can be directly accessed through the I-35, I-45, US-75, Dallas North Tollway, and I-30 highways. It also lies in close proximity to the McKinney Avenue Trolley and DART rail.
Park District design details
The mixed-use project covers an area of 916,000ft² (85,099m²), with the PwC office tower offering 500,000ft² (46,451m²) of Class A office space and 7,000ft² (650m²) of retail space at ground level.
The design solution focused on creating private and semi-private open green spaces with views of the Klyde Warren Park.
The office building comprises an executive lounge, a fitness centre, conference facilities, and collaborative workspaces, in addition to three restaurants and a banking facility.
Most of the parking is located underground, to support the integration of the two towers into the neighbourhood.
Tenants at Park District
PwC is the main tenant of the building and occupies approximately 200,000ft² (18,580m²) on eight floors (12 to 19).
Other major tenants within the office tower include Winston & Strawn, Barnes & Thornburg, Katten Muchin Rosenman, CBRE's Hana flexible workspace, and Caldwell Cassady & Curry.
Legal firm Winston & Strawn entered a long-term lease agreement for approximately 56,000ft² (5,202.57m²) on the eighth and ninth floors while  Barnes & Thornburg secured a ten-year lease to occupy 28,000ft² (2,601m²) on the seventh floor at the PwC Tower in April 2018.
Katten Muchin Rosenman, a law firm, signed a long-term lease to occupy approximately 56,340ft² (5,234m²) of space within the office tower at Park District in March 2019. It occupied the tenth and 11th floors.
CBRE Group, a real-estate company, announced in February 2019 that it will open its first Hana unit at the office tower. The company transferred its Hana brand to Industrious, a co-working and private office space provider, in October 2021.
Caldwell Cassady & Curry, a law firm, signed up to occupy 14,700ft² (1,365.67m²) of office space on the 12th floor at Park District in February 2019.
La Madeleine opened its bakery within the Park District complex in a smaller format in July 2020.
Perry's Steakhouse & Grille relocated from 2000 McKinney Avenue and opened for service in a two-storey space below the residences at Park District in July 2020.
It was followed by the opening of Yardbird Southern Table & Bar's new location at the base of the PwC Tower in September 2020.
Park District residential tower details
The residential tower of the mixed-use development features 228 luxury apartments and offers 24-hour concierge services to residents. The residences include one, two, and three-bedroom luxury units, ranging from 782ft² (72.65m²) to 3,234ft² (300m²) in size.
The apartments feature 10ft to 13ft-high ceilings and high-end finishes such as European custom cabinetry, with soft-close doors and drawers, and quartz countertops, with 24in backsplash.
All the rooms have engineered wood floors while the bedrooms feature luxury carpets. Other features include walk-in closet space, bigger private balconies, and Bosch and Thermador appliances, as well as full-size washers and dryers.
The residential tower also includes a green roof, a business centre, a spa, and a 7,000ft² (650m²) fitness centre with locker rooms, yoga rooms, and showers. An amenity deck is also part of the tower and features a resort-style pool, lounge area with seating and grilling stations, and cabanas.
The tower also includes 13,396ft² (1,244.52m²) of retail space featuring 20in floor-to-floor glass on two levels, which offers views of the Klyde Warren Park from the second level.
Public spaces at Park District
The project created a connection to the Klyde Warren Park through wide sidewalks, park-like landscaping features, and a walkable plaza as the main entrance.
The office and residential towers are inter-connected by the plaza, located at the ground level. Adequate space is available for seating, dining courts, and water features.
Parking facilities at Park District
Parking for vehicles of the Park District development is available at a four-storey underground parking garage.
PwC Tower has three parking spaces per 1,000ft² (92.9m²) of office space underneath the office building while one parking space per bedroom has been allotted in the apartment tower.
The garage can be reached from both Pearl Street and Olive Street.
Contractors involved
HKS was appointed as the project architect while Balfour Beatty was awarded the general construction contract and was responsible for providing construction services.
TCC subsidiary High Street Residential developed the retail space.
The plaza interconnecting the two towers was designed by the Office of James Burnett, a landscape architecture firm.