Philip Payne is the leading exit sign brand in the UK, consolidating its reputation over the last decade by providing bespoke emergency products for many of the UK's leading building designs. Total production flexibility coupled with an inherent architectural empathy results in an emergency product offering that eases the visual pain of fulfilling statutory requirements.
Recognising that most trade emergency exit signage products are generally designed with functionality in mind, Philip Payne believe that buildings are often compromised with low quality emergency lighting products where designers have no input into the emergency lighting specification.
LED exit signs and emergency luminaires
By embracing new technologies including DALI compatibility, both LED exit signs and LED emergency luminaires are available to compliment green lighting schemes and green building projects.
Philip Payne offers a backbone range of quality standard products whilst encouraging direct dialogue with architects and designers to ensure that both aesthetic aspirations and functional requirements are fully met. Specification project managers are assigned to projects, providing an important conduit between the designer and Philip Payne production – all of which is undertaken at our site in Solihull, UK.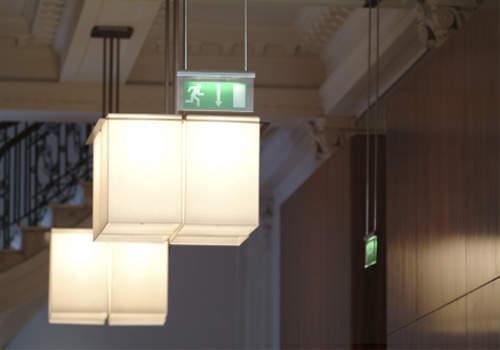 The cylinder range is available in a myriad of finishes and mounting options to suit any installation from heritage to modern designs.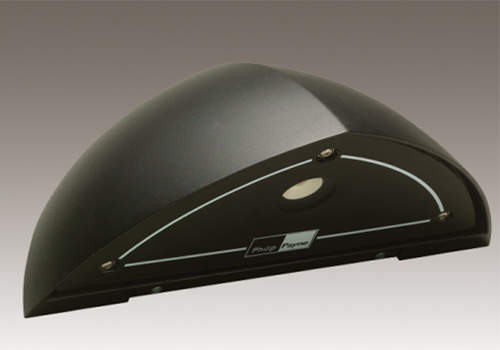 The MF-100 exterior LED emergency luminaire provides an interesting alternative to traditional bulkhead-style products.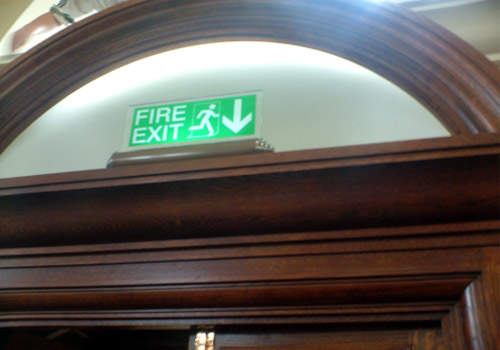 Specials or product deviations can be built to overcome architectural obstacles. The Special projects team can work directly with the designer or from plans to ensure Philip Payne emergency products meet all mounting and finish requirements.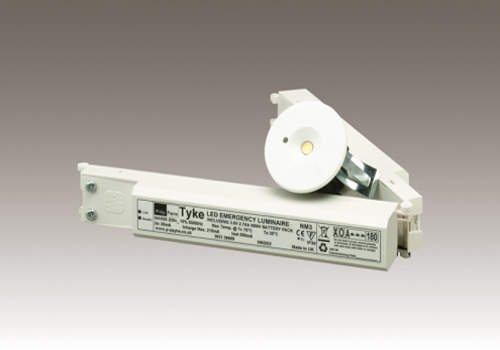 The TYKE recessed LED emergency downlighter provides a cost effective and efficient alternative to the conversion of mains luminaires.
Whilst ensuring that aesthetic or mounting issues are resolved Philip Payne remains committed to quality which is demonstrated by membership of the Lighting Industry Federation (LIF) and Industry Committee for the Emergency Lighting (ICEL).
Philip Payne Ltd is a registered ISO: 9000 company.
Bespoke emergency exit signage
The Architectural, Cylinder and Seven ranges of signs have changed the face of exit signage in recent years, providing a much welcome departure from rectangular boxes and brass dangling products which have been sole offering of most emergency lighting manufacturers. By raising the bar in core design the first objective has been achieved but it is the willingness to deviate in dimensions and finishes that truly sets Philip Payne apart in the market. Emergency exit signs installed at the Gherkin, Wembley stadium , Ascot racecourse and a host of top hotels, arts and commercial projects have all been designed or modified to meet the requirements of building designers .
LED emergency luminaires
By expanding into the recessed and surface mounted LED emergency luminaires market, Philip Payne can now offer a complete suite of products to complete any emergency lighting scheme, with products that charge intelligently on a pulse rather that trickle basis and self-test to meet industry standards.
By using small, standalone LED luminaires instead of converted mains lighting products, which are positioned to meet a different design criteria, the opportunity arises to locate fewer emergency units in dedicated positions. This provides savings in cost and energy with fewer, smaller battery units to be charged. The combination of LED light sources and nickel metal hydride batteries means long life and low maintenance.
Emergency lighting systems
Philip Payne products can be intelligently linked together to report test status and ensure compliance to British and European testing standards. DALI systems provide web based and e-mail status reporting, with less sophisticated reporting systems available to meet the requirements of building projects of all scales, alerting the user of any faults on the installation. The combination of self-testing, self-reporting long life products results in a 'fit and forget' emergency lighting solution.