The future of design and construction demands greater use of renewable materials and reducing carbon emissions. Fabric Architecture specialise in tensile fabric structures and fabric roof systems for use in exterior and interior applications. Fabric canopies can be used for tensile covered walkways and as shade structures. Interior fabric ceilings can be designed to create impact and to provide valuable shade.
A tensile fabric structure can significantly reduce the volume of materials required in construction, therefore reducing the carbon footprint of the project. Typically the fabric can be PVC, silicon glass, PTFE or ETFE.
TAILOR-MADE TENSILE FABRIC SOLUTIONS
We design our tensiles for the specific installation location and use the 50-year wind cycle information to assess anticipated loads on the structure. This information is used to establish the size of foundations, steelwork and the most suitable fabric for the application. All our structures are fully engineered and verified by independent structural engineers to ensure the design integrity and lifespan.
Our wealth of experience working in technically demanding environments ensures that design and build projects run as smoothly as possible. Project management and coordination of subcontractors, suppliers and plant are handled by a dedicated team to maintain control. Our installation crews are fully trained in current health and safety practices and are used to modern-day site conditions, inductions, toolbox talks and working with other contractors.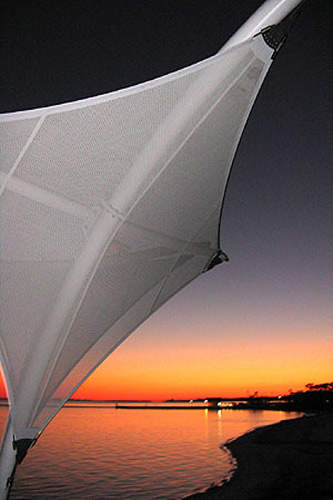 Fabric Architecture are present at every stage of the construction process from conception to installation.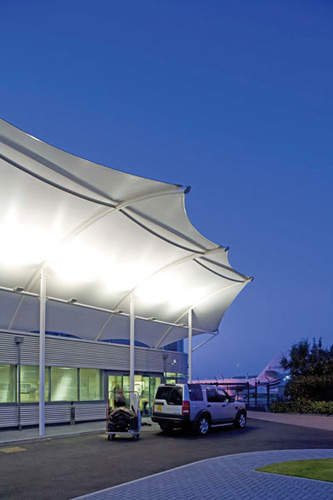 Fabric canopies can be used for tensile covered walkways and shade structures.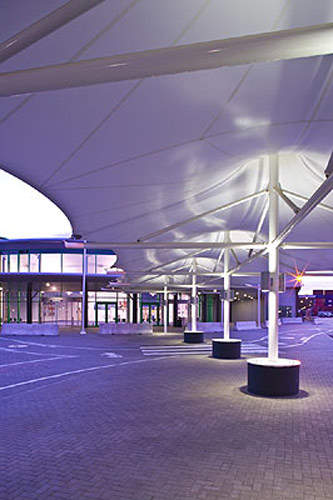 By incorporating CDM regulations, Fabric Architecture is able to give clients a concise timeframe and firm price with delivery on time to schedule.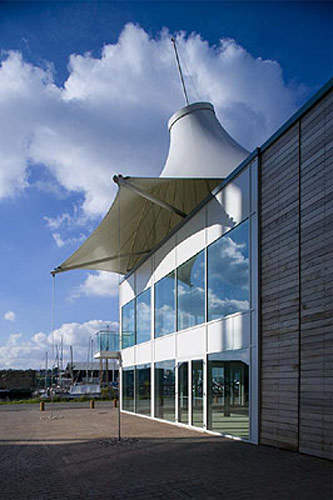 Fabric Architecture's structures use a variety of materials such as PVC and flame-retardant lycra.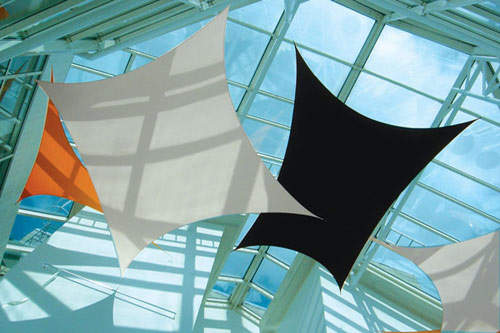 Interior fabric ceilings can be designed to create impact and to provide valuable shade.
DESIGN BUILD PROCESS IN FABRIC STRUCTURE CONSTRUCTION
The design and build process typically begins with a concept generated by an architect. The architect will consider, among other things, the general shape they would like to see the canopy take, the area to be covered and the purpose of the structure.
These thoughts may take the form of a very basic sketch, with or without a written brief to a detailed Computer Aided Design (CAD) drawing. We will have a look at what the client is trying to achieve and have in depth discussions regarding their vision for the project. Subsequently, we will provide an initial concept design based on this feedback as well as our own knowledge of the practical considerations to build the structure.
Dialogue flows freely at this point in the process with the overall goal being to design a beautifully practical structure which can be built in the specified location to budget. This process takes as long as necessary to satisfy all parties.
Once a design is agreed, Fabric Architecture will address the following considerations:
Determine the loads that will be exerted on connecting buildings and/or ground
Calculate and locate foundation pads
Locate services adjacent to foundations and re-route if required
Manage rainwater run-off
Find out whether there is a need for lighting and security
A formal quote is then prepared and if accepted, the detailed design drawings are prepared for final client approval, and subsequent installation.
INTERIOR TENSILE FABRIC STRUCTURES
Many types of fabric can be considered for use in interior applications. The primary requirement of these fabrics is a suitable fire rating. The four most common fabrics are PVC coated glass cloth, PVC mesh material, trevira polyester (inherently fire retardant) and fire-rated lycra.
The choice of fabric is often influenced by the structural strength of the building. Even a small tensile canopy can impart significant loads. The use of new lycra materials can resolve this problem. Fabrics are available in a wide range of colours.
We can provide computer generated shade plotting to assist in the design and installation of canopies which are required to protect specific areas and personnel from heat or glare. We often work with carefully chosen suppliers and designers. We are sole UK distributors for Juxtaform Space Articulators, specialists in inherently fire retardant lycra sculptural forms.
Main uses for internal tensiles are:
Sculptural features
Reduce solar glare and heat gain in atria
Internal ceilings to mask unsightly roofs
Internal screens and partitioning
Tensiles for luminaires and lighting schemes
Signage and branding
ABOUT FABRIC ARCHITECTURE
Fabric Architecture have over 25 year's experience in the field of tensiles, encompassing design, form-finding, visualisation, patterning, engineering, manufacture and installation supported by offices throughout the UK and now with manufacturing facilities to support our installations in the USA, with specific departments that specialise in bespoke design and build structures as well as pre-design engineered signature structures.