Bartec Syscom develops customised motion monitoring equipment for a wide range of structures and buildings.
Buildings are typically subject to vibrations, induced by many different sources located inside such as lifts, machinery and exterior vibration sources transmitted to the structures through foundations such as piling work, metro lines and earthquakes.
Earthquakes in particular can have a harmful impact on many structures, resulting in heavy damages and potential collapses.
In order to mitigate such incidents, monitoring the dynamic structural movement with networkable accelerometers such as the MR3000SB will ensure automatic, quick and reliable data acquisition and evaluation. These lead to safe and reliable actions for human safety and assets integrity post-earthquake, making them suitable for large-scale assessment.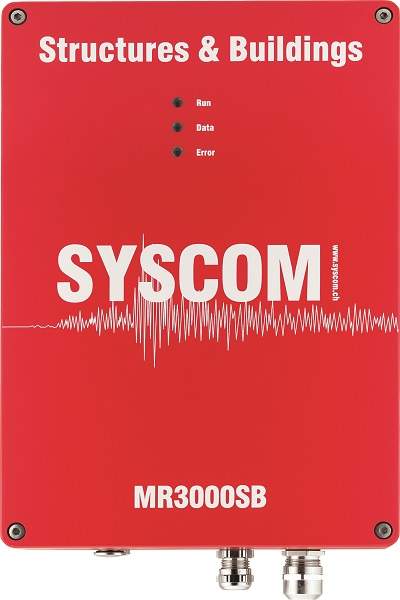 Syscom's MR3000SB strong motion recorder for structures and buildings is an all-in-one device. Seismically tested and qualified to the highest standard, it contains an acceleration sensor, recorder, back-up battery and communications.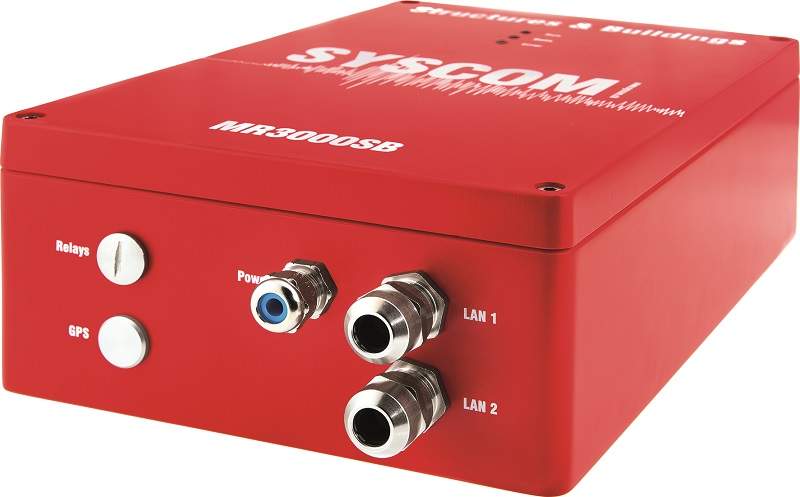 The MR3000SB features daisy-chain capabilities, ensuring no third-party IT requirements for optimal system reliability.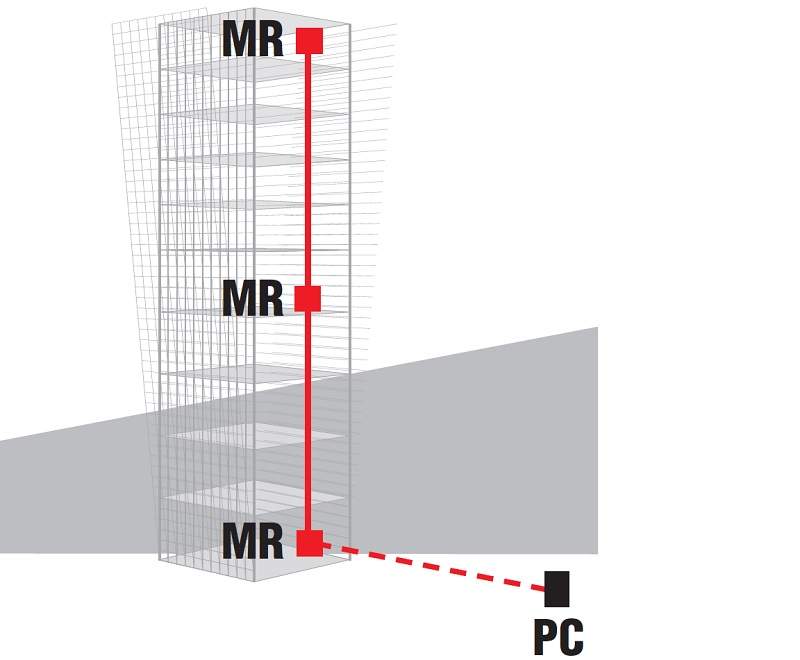 A typical three MR3000SB (MR) daisy-chain LAN network for mid-rise and high-rise buildings with devices at the basement, mid and top floors connected to a personal computer (PC).
Syscom Cloud Software (SCS) enables easy remote data acquisition, processing and notifications. Visit: 'Syscom Cloud Software' under Contact Details to get hold of SCS premium capabilities.
Strong motion monitoring solutions for buildings
MR3000SB is tailor-made for structural monitoring, designed in a unique compact and robust housing.
An internal switch, compatible with fibre-optics or Ethernet copper cable, ensures a plug-and-play installation. The device's embedded communication capabilities and Syscom Cloud Software compatibility facilitate data retrieval and system accessibility to enable automated and remote data retrieval, as well as smart alarming in the event of an earthquake.
Featuring a distributed intelligence design, the Syscom solution allows standalone recording in case of data line failure. Redundant configuration maximises the reliability and versatility of the solution, as well as guarantees data safety.
The motion recorder has an internal battery that can operate up to 60 hours autonomously in order to acquire the aftershocks following an earthquake, in addition to a relay output kit that can easily be connected to any early local warning systems or potentially retrofitted to an existing Building Management System (BMS) system for automated operation.
A typical configuration for high-rise buildings is a network of three devices located at the top, middle and ground floors.
Structural health monitoring
Knowing how the structure moves, reacts and deforms under external forces is needed to properly assess the general condition and loading capabilities throughout the years.
In order to record these parameters, local permanent vibration monitoring among other physical values is key and can be performed using highly reliable MR3000SB devices.
Local data recorded from the structure will give accurate input to structural engineers to enable a comprehensive evaluation of the building.
Asset monitoring technologies
Earthquakes may have a significant impact in urban areas, where multiple buildings are impacted altogether in a short period of time. In this regard, data retrieval and quick structural assessment are key elements for dedicated assets monitoring on a large-scale area.
Fortunately, such a solution is already commercialised and offered by Syscom using MR3000SB devices for local vibration monitoring coupled with the Syscom Cloud Software for automated data retrieval, alarming based on specific structural response spectrums and relevant notifications.
Earthquake local warning systems and risk assessment
Mainly related to mid-to high-rise buildings, but not only, MR3000SB devices can activate local alarms based on earthquake amplitudes using its embedded relays output.
The motion recorder configured with site-specific alarm levels can interact with the building management system, typically to slow down elevators, shut down the gas valves, activate different warnings based on low or high-seismic intensity or open the evacuation exit doors.
Quick risk assessment and relevant actions are of utmost concern in such cases and MR3000SB automation capabilities can trigger life-saving scenarios.
Should you have any interest or potential applications with structural monitoring in seismic zones, feel free to send us an enquiry. The Syscom team will gladly revert to you quickly.