Based in Sydney, Australia, ALLOY works exclusively with high quality metals and alloys, predominantly stainless steel, as well as titanium, copper, brass and raw steel, to design and produce contemporary finishes and architectural features. This includes the world-leading range of ALLOY solid metal tiles and a custom metal architectural screen manufacturing service.
Since its beginnings in Perth, Western Australia, ALLOY has maintained its commitment to creating products of the highest quality, whether its own designs, one-off custom designs, or solutions developed in collaboration with clients for any area of design or industry.
With 30 years' experience in high-quality metal manufacturing, all of ALLOY's products are still proudly Australian-made and have been designed and manufactured to maintain their integrity for a lifetime.
ALLOY has worked with a wide range of international clients, and is able to ship products all over the world.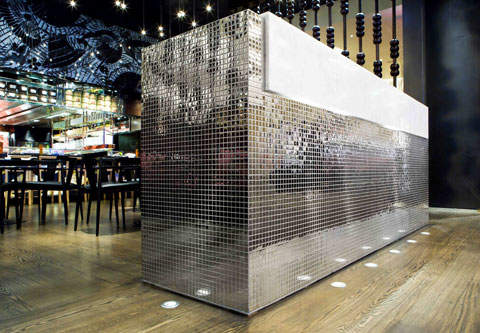 ALLOY tiles are the authentic solid metal tile.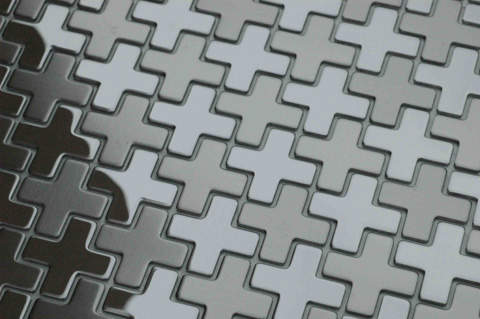 ALLOY offers a variety of unique solid metal tile shapes in stainless steel, copper, brass and titanium.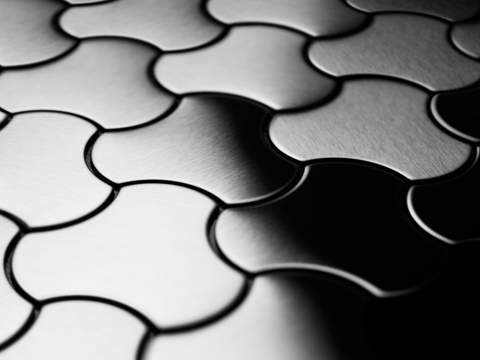 With a commitment to design and product innovation, the ALLOY range is now 260 products strong. Including the Karim Rashid for ALLOY metal tile collection (pictured).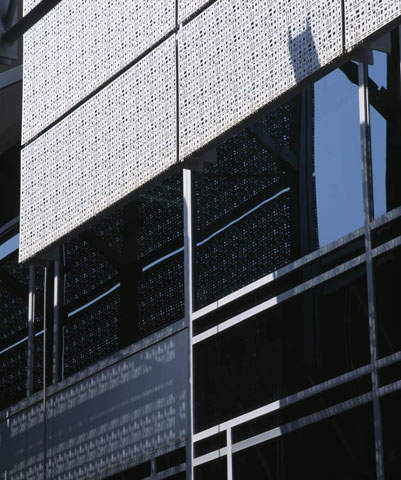 ALLOY provides specialist metal design and manufacturing services for architects and designers seeking unique, high quality architectural screens to suit individual specifications.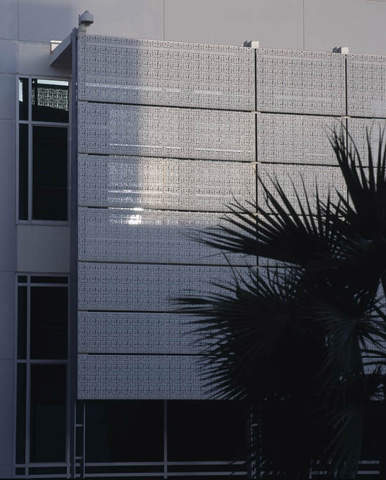 All ALLOY products are made to Australian Standards (where required) and are quality controlled to meet the strictest requirements.
Stylish metal tiles for interior and exterior surfaces
Sleek, solid and unrelentingly stylish, ALLOY tiles are the metal tile choice of leading architects and designers from around the world. ALLOY changed the face of mosaics by delivering the seductive sheen of metal for interior and exterior surfaces.
ALLOY was the first and is still the only company to use a solid 1.6mm material punched from a single sheet of the highest quality metal, ensuring an unsurpassed finish that is designed to last a lifetime. The unique ALLOY tile sheets, unlike low-grade copies, are long lasting and hardwearing and contain no backing mesh, plastic inserts or metal look-alike 'metallic' coatings so they won't dent, crack or de-laminate.
The authentic solid metal mosaic tile
ALLOY designer Jonathon Worner first developed the idea for a face-mounted, solid metal mosaic tile in 1998 that, until ALLOY's innovative approach, traditional tile manufacturers had been unable to produce. After many months of careful design and rigorous testing — to ensure a seamless finish coupled with long lasting strength and durability — the ALLOY 20mm x 20mm solid, stainless steel, sheeted mosaic tile was complete.
ALLOY metal mosaic tiles are now highly sought after, featuring in many high-profile commercial and domestic interiors and exteriors around the world.
Solid metal tiles in a variety of shapes, sizes, metals and finishes
The ALLOY range of metal tiles is now 260 products strong. With an ongoing commitment to design, product innovation and quality manufacture, ALLOY authentic solid metal tiles are available in a variety of metals, alloys, finishes and a striking array of innovative shapes and sizes, including the recently launched Karim for ALLOY range of organic shapes with a '3D' effect, designed exclusively for ALLOY by renowned industrial designer Karim Rashid.
Other unique styles include:
Mosaic
Penny round
Swiss cross
Diamond
Rectangular
ALLOY tiles are also available in a wide variety of materials and finishes, including:
Stainless steel
Copper
Brass
Titanium
Raw steel
Custom metal architectural screens
ALLOY custom architectural screens provide a high-end design solution to any interior or exterior application.
With more than 30 years' experience in precision-metal manufacturing, a 2,200m² factory with substantial fabricating abilities and an inherent understanding of contemporary design, ALLOY is in the unique position to provide specialist design and manufacturing services for architects and designers seeking custom-made architectural screens to suit individual specifications.
From the smallest private commission to the largest public project, ALLOY has worked with leading architects for projects both locally and internationally to deliver superior results for the most challenging of creative briefs, on time and on budget.
ALLOY works exclusively with high-quality metals and alloys, including:
Aluminium — powder-coated or anodised in any colour
Stainless steel — mirror polished or brushed
Copper
Brass
Raw steel
Titanium
ALLOY will provide an obligation-free quote from any CAD drawings supplied.