Alimak Hek is the name you can trust for safe, productive, and economical vertical access solutions based on the rack and pinion technology. Our offering comprises construction hoists, work platforms, transport platforms, material hoists, industrial lifts, elevators and a wide range of after sales services. Having delivered vertical transport solutions for over 60 years, Alimak Hek today supplies rack and pinion construction hoists, mast climbing work platforms and industrial lifts to more than 60 countries worldwide.
Permanent industrial lifts
Alimak Hek manufactures rack and pinion industrial lifts for permanent access purposes. Our lift range includes small passenger lifts for use in tower cranes, container handling cranes, communication towers and power plants, as well as customised vertical transportation installations. Our permanent industrial lifts provide better monitoring and servicing access for clients' industrial facilities and can be introduced across a broad spectrum of industrial and environmental applications.
Our lifts are designed to operate in demanding industrial environments, outdoors or indoors, and can be easily fitted to new and existing structures without the need for expensive shafts or lift rooms. Alimak lifts have taken a strong position in the offshore, steel works, power, cement and port industries.
Modular 450 range
The Modular 450 provides you with 1 mast and 1 drive unit for many different machine applications. In this range Mast Climbing Work Platforms, Transport Platforms and Material Hoists are available. Many of the same components are used in the assembly of these different configurations.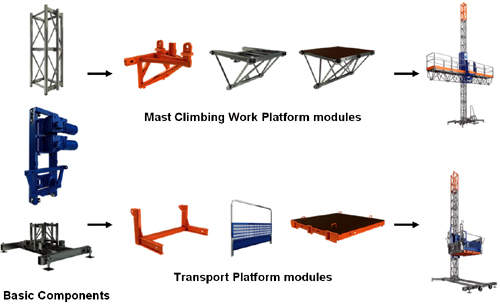 The Modular 450 range – Mast Climbing Work Platforms, Transport Platforms and Material Hoists.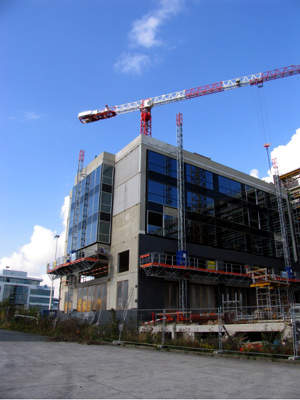 When a construction project is too high or too complex for scaffolding, Hek mast climbing work platforms are the obvious alternative for façade work.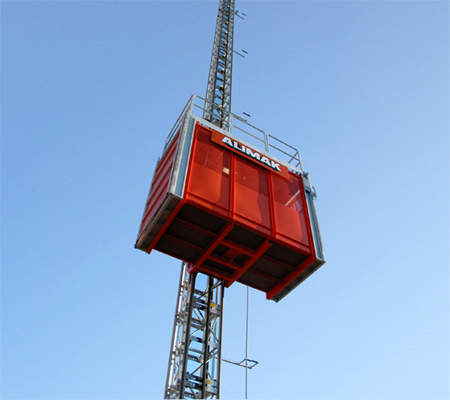 Alimak Scando construction hoists at work on Europe's tallest residential building, Turning Torso, Sweden.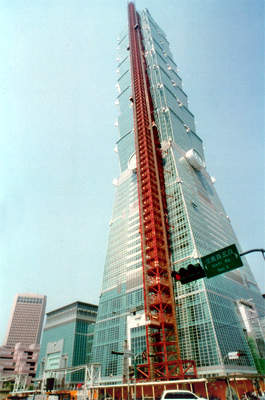 A twin car Alimak Scando 650 in use on a new tower under construction in Dubai.

Alimak SE rack and pinion lifts and elevators ensure safe and reliable access and are particularly well suited to tough operating conditions.
Hek Mast Climbing Work Platforms
Hek Mast climbing work platforms offer an economical, efficient and safe solution for all kinds of façade work. Easy loading of the mast climbing work platform and the flexibility of having people and material always at the correct height make this type of equipment the most efficient solution in many applications. Applications where the machines can be found are brick laying, stone cladding, glass and aluminium installation, plastering and painting, renovation and elevator installation. With platforms lengths from 4.3m up to 51m and a payload from 2,040kg up to more than 5,000kg, mast climbing work platforms will always offer a suitable solution.
Hek Transport Platforms and Material Hoists
Using up to 75% of the same components as the mast climbing work platforms, these configurations are part of the Modular 450 range. Originally designed as a support to build traditional scaffolding nowadays the machines configurations are used to transport people and material on a project. In our Modular 450 range we offer payloads from 1,300kg up to 4,000kg, platform lengths from 1.6m up to 4.8m and platform widths up from 1.6m up to 3.2m. Main advantages are higher payloads in combination with a bigger platform area, faster build up of the machine, precise stopping on each floor, easy rebuilding to other configurations.
Construction hoists for passengers and materials
Alimak Scando construction hoists can be adapted to suit multiple construction purposes. A wide range of doors / gates and drive units can be fitted while speed and payload capacities can be adjusted to suit almost every customer application. The Alimak Scando hoist does not require a vast array of modules and components to operate effectively.
The Alimak Scando hoist is available in single or dual car configurations, supports payloads up to 3,200 kg/car and can reach a standard maximum lifting height of 400m. The Alimak Scando operates at speeds of up to 100m/min.
The flexibility of the Alimak Scando system enables Alimak Hek to meet the vast majority of customers' hoist requirements in today's demanding construction market.
Product range
Alimak SE – the modular access and goods / passenger lift range is primarily designed for transporting men and materials at service and inspection work.
Technical data:
Payload capacity: 300kg-2,400kg
Speed: up to 60m/min
Lifting height: up to 250m with standard accessories
Alimak Scando – construction hoists for passangers and materials.
Technical data:
Payload capacity: –up to 3,200kg
Speed: up to 100m/mins
Lifting height: up to 400m with standard accessories
Fuse ratings: from 20A