Protan (UK) Ltd supplies single-ply roofing membrane systems to the UK construction market. Suitable for flat, pitched or barreled roofs, Protan's roofing systems are ideal for both new build and refurbishment projects using mechanically fixed, adhered and ballasted solutions to meet clients' individual requirements.
Over 60 million square metres of roofing produced by Protan have been laid in Europe, offering greater durability than most traditional methods of roofing. Advanatges of Protan's roofing systems include:
Life expectancy: Protan membranes have been in service for over 35 years
Prefabricated solutions are available to minimise on-site application
Complete system approach incorporating the entire roof build-up and items such as Mansafe and lightening protection
Range of colours and decorative profiles provide many design options on pitched roofs
Exposed and protected membrane roofs
The principle function of a roof is to provide long term durable protection against the external environment to a building. Protan's single ply roofing systems can be installed using three different methods:
Protan mechanically attached roofing systems – a quick and easy methods of installing Protan's roofing membrane
Protan adhered roofing system – full adhering is commonly used to secure the membrane against wind uplift where weather conditions favour this method of installation
PROVAC vacuum roofing system – a unique system which allows for a fast installation with no mechanical fixings or use of adhesives
PROSIP – The complete prefabricated roof assembly for long span buildings
PROSIP is a complete roof assembly for long span buildings. Each bespoke panel is entirely manufactured in a modern UK production facility. The PROSIP panel consists of a prefabricated SE membrane applied to a steel / timber structural core. This incorporates fire resistant mineral wool insulation along with a pre-finished soffit to the underside. Services can be incorporated in the panel design as well as acoustic and thermal requirements.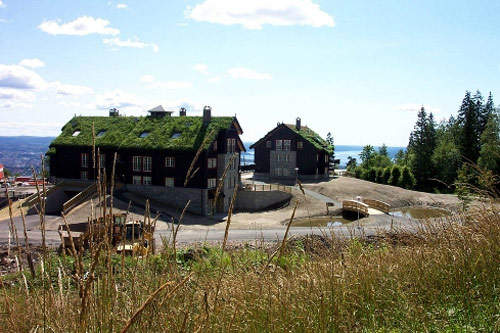 PROGREEN - Green Roofing Systems.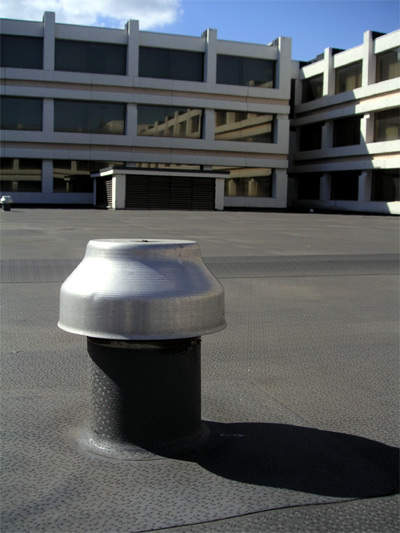 PROVAC - Vacuum Roofing.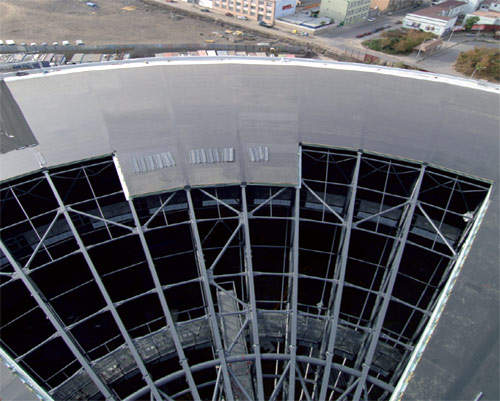 PROSIP - Prefabricated Panels.
Standard overlap mechanically fixed.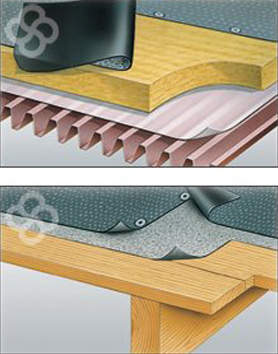 Standard overlap.
PROSIP panels are ideally suited to buildings requiring a clear span, such as schools, colleges, airports, warehouses and leisure facilities. PROSIP panels are 2.4m wide by up to 13.6m long. This reduces the need for secondary steelwork and greatly increases the versatility of internal space. The panels are suitable for both concrete and steel frames and are designed to facilitate easy mechanical lifting.
PROSIP panels offers the following benefits:
Reduced cost – fast track installation minimizing onsite time with up to 1,400m² installed in just one shift with zero site waste so no disposal costs as well as a reduction in secondary steelwork due to the spanning properties of the panels
Superior performance – High acoustic, thermal and air leakage qualities, with the flexibility to enhance sound absorption or insulation tailored to each specification
PROVAC – the Prefabricated Vacuum Roofing System
PROVAC, Protan's unique single ply roofing system, utilises wind forces present in the environment to provide durability and protection even in extreme conditions. Since the installation of the first Norwegian vacuum roof in 1985, the system has been adopted for over 2 million square metres of roofs throughout Europe.
PROVAC works by loose laying the Protan SE membrane onto the roof with fastening only around the perimeters and penetrations. Strategically located vents within the design act as pressure release valves. The stronger the wind forces, the better the system works. The system is suitable for both new roofs and refurbishments, in particular those with structural concrete or concrete slab decks.
PROVAC offers the following benefits:
Sustainable and Energy Efficient: The system is adhesive-free so there is neither toxic waste nor consequent health risk to the installer and is fully recyclable at the end of it's 30 year lifespan.The supporting structures and vapour control layer are not penetrated by fasteners;
Cost Efficient :No fasteners ensures rapid installation with reduced labour time, contributing to a reduced construction programme – particularly important when installing on concrete substrates
PROGREEN – Protan's Green Roofing Systems
All the way from Scandinavia, Protan offer one of the simplest range of green roofing system:
PROGREEN Extensive Roof System
PROGREEN Intensive Roof System
PROGREEN Bio-Diverse Roof System
PROGREEN Turf Roof System
Protan's experience in green roofs goes back to its Nordic inheritance of supplying waterproofing materials for traditional turf roofs across Scandinavia since 1985.
Protan have developed a waterproof membrane designed specifically for green roof applications, PROGREEN membrane. It can be either loose laid or mechanically fixed due to the secret fix strips on the back of the membrane. This avoids the use of adhesives and ensures the membrane is fully recyclable at the end of its life cycle.
PROGREEN really is green.