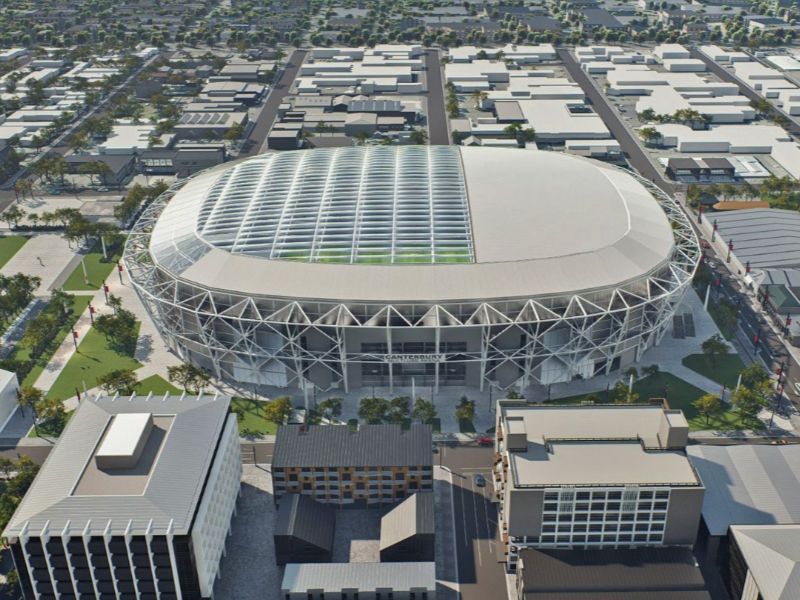 The Te Kaha multi-use arena will re-establish Christchurch as a sporting and cultural centre in New Zealand. Credit: Christchurch City Council.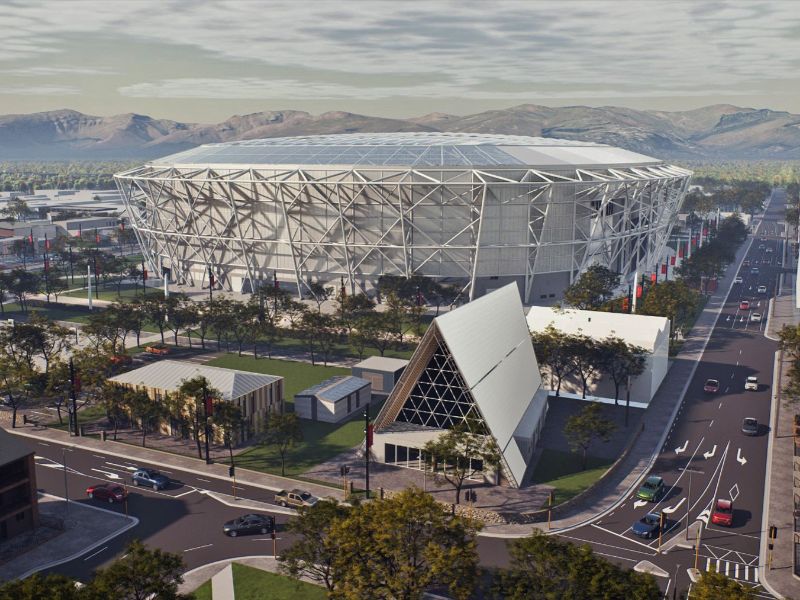 Being built on a 6.8ha site, the arena will have a minimum seating capacity of 30,000 for sporting events. Credit: Christchurch City Council.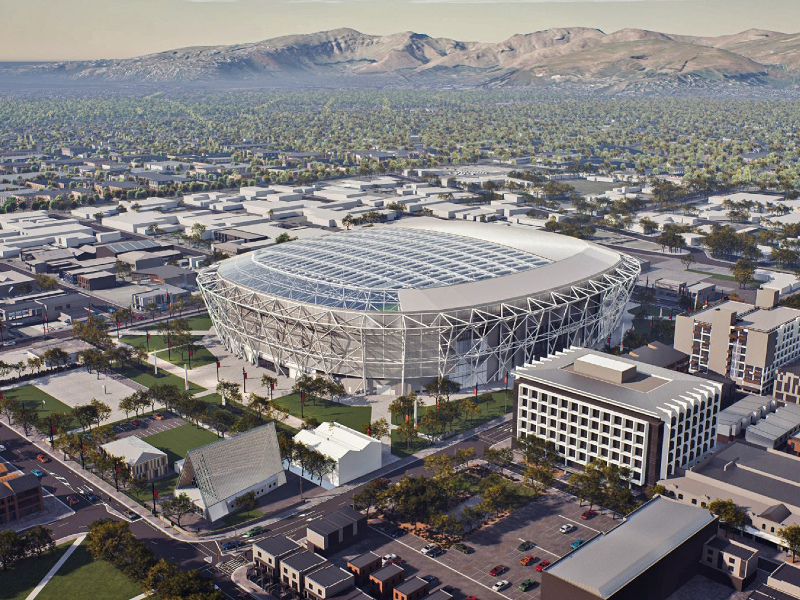 The Te Kaha arena will have a fully covered roof. Credit: Christchurch City Council.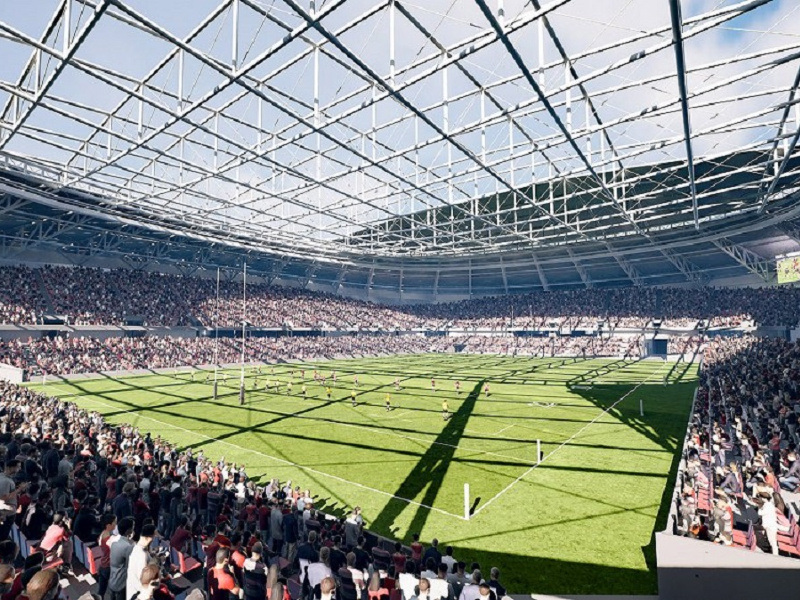 Construction of the new arena began in April 2022. Credit: Christchurch City Council.
Te Kaha multi-use arena is a state-of-the-art arena being built in Christchurch city in Canterbury, New Zealand.
Also known as the Canterbury multi-use arena, it is expected to host matches of All Blacks rugby team, Football World Cup qualifiers, and other international sports and major concerts, upon completion.
The Christchurch City Council, which owns the new arena, approved the preliminary designs for the project in January 2022, while the sod-turning ceremony for the project took place in April 2022. Pre-construction works began in July the same year, while first concrete pour took place in January 2023. The project is expected to be completed in April 2026.
The multi-purpose arena is expected to re-establish Christchurch as a sporting and cultural capital and boost the local economy. The total estimated cost of the project is NZ$683m ($418.75m).
Location
The Te Kaha arena is being built on a 6.8ha site within the Te Kaharoa precinct in central Christchurch. It is bounded by Madras, Barbadoes, Hereford and Tuam streets. The arena is located within six minutes from Christchurch Bus Interchange.
Te Kaha Arena features
The Te Kaha multi-use arena is expected to have a length of 232m (761.15ft), a width of 195m (639.76ft), and a height of 47m (154.19ft).
It will have a seating capacity of 30,000, including 25,000 permanent and 5,000 temporary seats, for sports events and at least 36,000 for concerts. It provides a scalable seating capacity, making it flexible to accommodate smaller concerts, shows and events.
It will also include at least four player changing rooms, 23 corporate suites, 80 open corporate reserve seated areas, two function lounges covering a total area of 1,150m² (12,378ft²) and 32 food and beverage outlets, which can serve 25,000 patrons.
Design details of Te Kaha Arena
The arena includes a rectangular permanently stitched hybrid in-situ turf field of play and a fully covered roof.
It has been designed considering seismic requirements of the region and to improve fan experience, multi-use functionality, and health of the turf. The design also focuses on maximising sunlight and reducing the noise impact on the properties in the surrounding area.
The arena will be covered by 175m x 210m ethylene tetra fluoro ethylene (ETFE) roof. The roof structure is free-standing and independent of the arena structure. An oculus-style roof was adopted to increase its strength. The design considered the dome shape to offer extra rigidity to the stadium's roof diaphragm.
It is also expected to be one of only two fully roofed stadiums in the world, with a natural turf pitch.
The average seating bowl angle of the arena is 33.5°, while the distance between the field of play and the closest seats will be 6m to maximise visitor experience.
The venue will have large roller doors at the northern side to provide easy access to concert and festival crews to a large concert staging area, which will be used to hold 5,000 temporary seats when not in use for musical performances. The damage to the turf during concerts and festivals is expected to be reduced by locating the staging area to one end of the arena.
The arena has also been designed to provide enhanced user experience for people with disabilities.
Contractors involved
BESIX Watpac, an Australian construction company, is the leader of the Kōtui consortium that was contracted to deliver the Te Kaha areana in March 2021.
The consortium also includes New Zealand-based construction companies Southbase Construction and Fulton Hogan, local seismic engineering specialists Lewis Bradford, global architecture and design services firm Populous, and Warren and Mahoney Architects, an architecture and design firm based in New Zealand. Mott MacDonald, a UK-based company, is responsible for providing engineering services for the project. Warren and Mahoney Architects and Mott MacDonald are also part of the consortium.
Benmax, an Australian company, was awarded a contract to provide heating, ventilation and air conditioning (HVAC) mechanical services for the Te Kaha arena project in August 2022.
Robert Bird Group (RBG), an engineering consultant based in Australia, was selected by BESIX Watpac to provide design concept verification services. RBG worked along with Vickery Hyett Sports Architecture, a UK-based architecture firm, and ME Engineers, a US-based mechanical, electrical, and plumbing (MEP) engineering services provider, for the project.
RBG was also appointed to provide construction engineering services during the pre-construction services agreement (PCSA) phase.
RCP, a project management services provider, was selected by Christchurch City Council to provide project and design management and contract administration services under the pre-contract services agreement.
Golder, an earth sciences and environmental consulting firm based in Canada, was engaged to provide geotechnical engineering services. Holmes Fire, a fire engineering solutions provider based in Australia, was appointed to provide fire engineering, passive fire protection, fire protection engineering, and structural fire engineering.
WT Partnership, a multi-national construction cost management and advisory services firm, was appointed to provide cost consulting services.
Graham Surveying provided land surveying services, while Intelligent Risks was contracted to provide security risk assessment.
Other local contractors providing services for the project include Powell Fenwick, Abley Group, and Inovo.