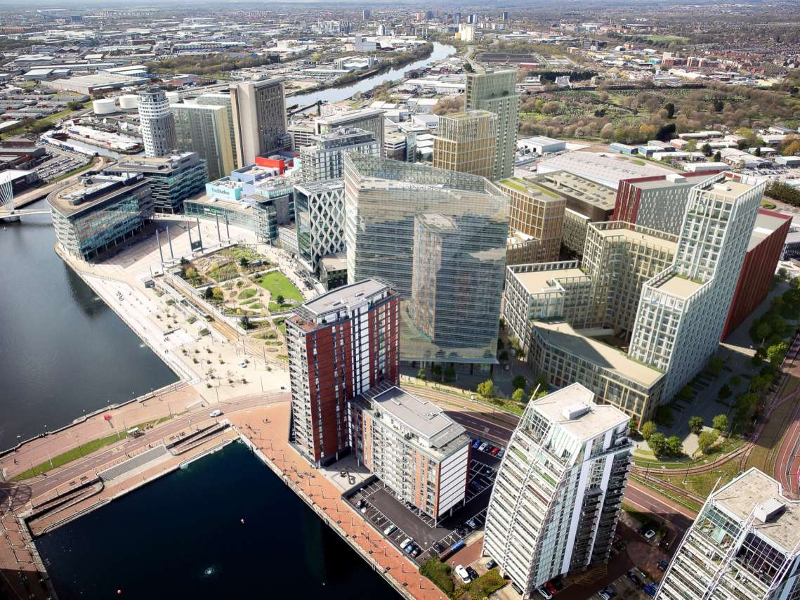 MediaCityUK mixed-use project is being developed in two phases. Image courtesy of Gillespies.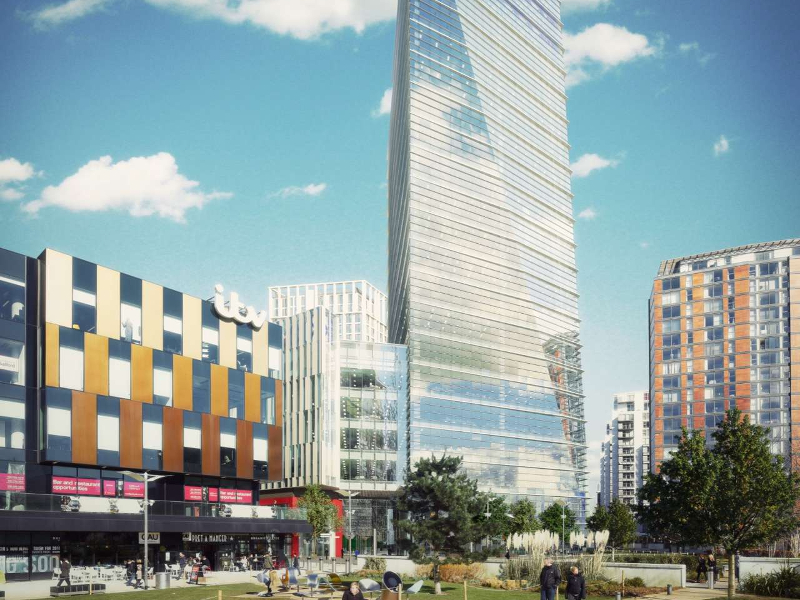 Phase two of MediaCityUK will double the capacity of the existing site. Image courtesy of Gillespies.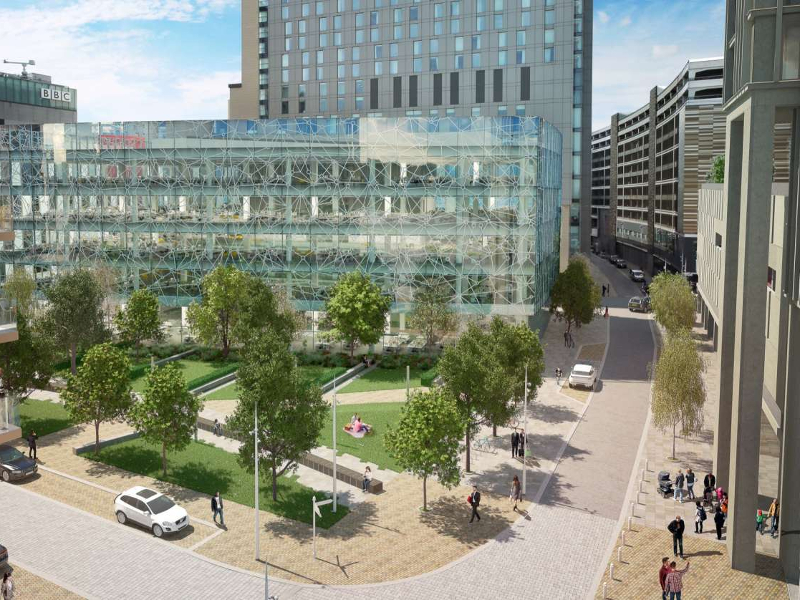 The MediaCityUK phase two project received the Planning Permission of the Year 2017 award. Image courtesy of Gillespies.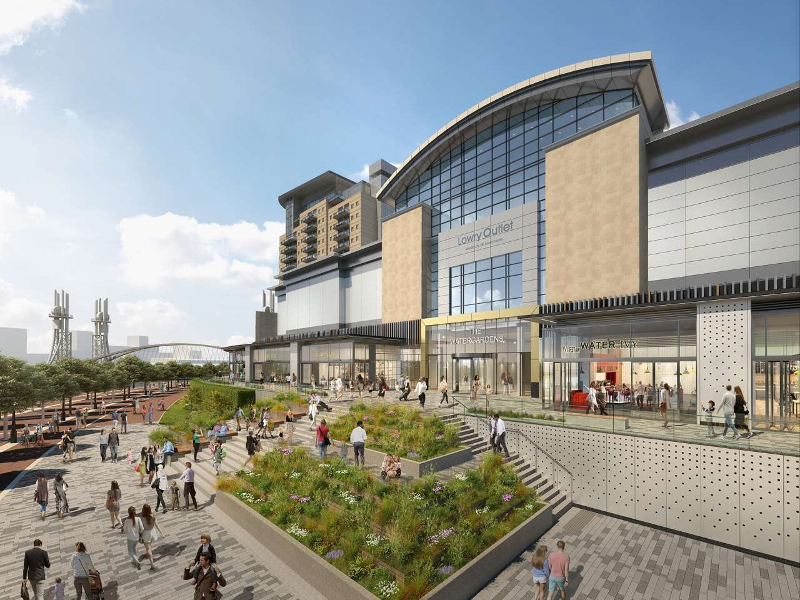 The project will include a shopping and leisure destination named The Watergardens. Image courtesy of Gillespies.
MediaCityUK is a mixed-use project being developed in Manchester, UK, in two phases. The first phase of the project was completed in 2010, while the second phase was announced in 2016.
The project is being developed by Peel Group and Legal & General Capital. Phase two is being developed with an estimated investment of approximately £1bn ($1.28bn). Detailed development planning consent for the project was received in September 2016.
The MediaCityUK phase two received Planning Permission of the Year award in 2017 at the UK Planning Awards.
MediaCityUK phase two development details
Phase two of the MediaCityUK mixed-use project will have a 211,000m² (7.7ha) are and double the size of the existing site. It will feature ten new buildings, which will include one of the largest private rental scheme (PRS) developments in the UK.
"MediaCityUK phase two will include the 19-storey Lightbox residential development."
It will also include 540,000ft² of Grade A office or commercial space, 1,800 apartments, leisure and retail areas, as well as an extensive public realm with communal spaces.
The area will have an extensive waterfront and pedestrian-friendly routes to connect it to the buildings. A number of public spaces, piazzas, workspaces, cycle tracks, media parks, improved pedestrian facilities, and enhanced cycling amenities will also be available at the development.
Residential developments at MediaCityUK phase two
MediaCityUK phase two will include the 19-storey Lightbox residential development, which will consist of 238 new apartments located on the waterfront, overlooking the Manchester skyline.
The apartments will be equipped with high-quality residential spaces, modern bathrooms, kitchens, floor patterns, and appliances. Full concierge service, bicycle storage areas and car parking slots will also be provided.
The Lightbox development is expected to be completed by the first quarter of 2019 with an investment of approximately £50m ($64m).
Located next to the Lightbox development, the £55m ($70m) Green Rooms development will include 238 high-quality PRS apartments and is scheduled to be completed in 2019.
Office and leisure developments
The second phase of MediaCityUK will feature the Tomorrow Building, which was launched in September 2016. Comprising a hotel and office spaces, the building will be home to international companies such as commercial fit-out specialists ISG and network operator, Vaioni.
At the centre of the development will be a public space named Market Square. The development is expected to host modern market halls and event spaces, as well as apartments, restaurants and shopping outlets.
The Watergardens, a waterfront shopping and leisure destination, is also part of the project. It will include restaurants, shopping outlets, and lounge areas for visitors to dine and enjoy the views of Manchester's skyline.
Contractors involved in MediaCityUK phase two
Chapman Taylor is responsible for the master planning of the project and is also responsible for designing three development plots including the residential PRS scheme, office spaces, parking facilities, and studio apartments.
The company is also working with other architects such as Sheppard Robson, 5plus Architects, Hodder and Partners, AHR, and Jeffrey Bell Architects to develop and design eight plots.
Sheppard Robson is responsible for designing Grade A office spaces, while 5plus Architects is responsible for the development of retail, leisure and apartments. AHR is designing two residential apartments.
Hodder and Partners is designing studio offices and apartments, while Jeffrey Bell Architects is developing studio offices and apartments as well as a market hall building.
Gillespies has been appointed as the landscape architect for the project and is responsible for designing the public realm comprising retail outlets and workspaces.
NJL Consulting provided advice on strategic planning and was involved in the preparation of the development application for the project.
Bouygues UK is responsible for the construction of the Lightbox residential development.
MediaCityUK phase one details
The first phase of MediaCityUK was developed with an estimated investment of £500m ($650m). It includes two residential buildings with 378 apartments, a car-park with 2,300 parking spaces, an energy centre, and a Metrolink station. It also includes three BBC office buildings with a total area of 44.000m².
The residential towers include studios, duplex penthouses, television studio complex, and a 200-key hotel. The outline planning permission for the MediaCityUK phase one was received in 2006, while official inauguration was held in 2012.
MediaCityUK phase one is home to more than 250 businesses and numerous small and medium-sized enterprises. The premises also host some of the big and popular institutions such as BBC, ITV, dock10, Ericsson, SIS, and Salford University.