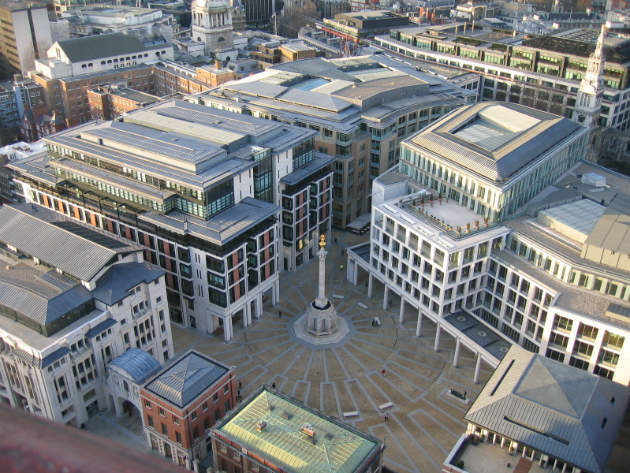 At first glance, Paternoster Square in London's financial district looks like any other unremarkable public space: tourists mingle with office workers around a bland, open central piazza, chain cafes line the edges and a series of pedestrian routes lead out towards the rest of the city.
When protestors from London's Occupy movement took over the site back in October 2011 to demonstrate outside the London Stock Exchange, it quickly became clear the space wasn't as it seemed, however.
No sooner had the activists thrown down their tents and sleeping bags, they were ordered out on the authority of a high-court injunction. Despite the trappings of public life, Paternoster Square, it turned out, was a private space owned by the Japanese real-estate and investment company Mitsubishi Corporation.
While Occupy's original intention had been to raise awareness about social injustice in the wake of the financial crisis, as the activists picked up their belongings and moved over to the steps of St Paul's cathedral next-door, a new question was born: who exactly owns the city?
Who owns the city?
Bradley Garrett, visiting academic in Human Geography at the University of Southampton, is currently working on a research project mapping public spaces in London to try and answer this question.
"What we are finding is striking," he says. "You can feel like you are drifting from one open space to another, but when you actually look at the underlying mechanisms that govern the space you realise places you think are public are not.
"It is in the interests of governments and corporations to have us believe we still have access to public space, when actually it's been creeping out the back door."
"In some ways I think that is intentional: it is in the interests of governments and corporations to have us believe we still have access to public space, when actually it's been creeping out the back door."
According to Susannah Hagan, Professor of Architecture at the University of Westminster, this process of privatisation began in the 1980s with Margaret Thatcher in the UK and Ronald Regan in the US.
"There was a much greater emphasis on the free market approach in the deliverance of space," she says. "There was an active desire to roll back the state and to get upfront capital provided by the private sector. This was the beginning of neoliberalism, and it is the system we are still living with at the moment."
As the British economy shifted away from manufacturing and towards a 'knowledge-based' economy, this process of privatisation accelerated according to author Anna Minton. Post-industrial change offered "unprecedented opportunities for new development in former industrial areas," she argues. Underpinning that new urban landscape however, were "significant changes in landownership" which saw "the rise of individual landlords owning and managing entire city centre schemes".
"Nowhere to protest, nowhere to resist"
The dangers of this are manifold. Private interests tend to produce spaces that are sanitised, geared towards consumption and highly regulated with loitering, skateboarding, leafleting and protesting often banned.
"It's all part of the constriction of cities," says Garrett. "If you take away people's space, you take away their right to gather and protest. When all of this space gets diced up we will find that actually we have nowhere left to go; nowhere to congregate; nowhere to protest and resist."
Of course, public spaces aren't without their own restrictions either. "Their use has always been conditional," Hagan says. "There is certain behaviour you have to follow…one of the most important aspects being to respect members of the public who are using it."
The ability to hold local authorities to account is a significant difference between the two, though, as Garret points out. "How do you take a corporation to task?" he asks. "Do you sue them? How many of us can afford to do that? With local authorities, you can petition through letter writing, campaigns and local meetings."
""How do you take a corporation to task?" he asks. "Do you sue them? How many of us can afford to do that?"
For Garrett, the key to reclaiming cities lies in acts of creative disobedience and the creation of what American anarchist Hakim Bey once called Temporary Autonomous Zones. In February last year, for example, Garrett joined the London Space Academy at an intervention in Potters Fields Park, a popular riverside space owned by the Kuwaiti property company, More London and governed by a series of corporate bylaws that have banned protesting and public speaking.
"Essentially we organised a mass trespass," he says. "We got a couple of hundred people and just took it over. I think going out and getting involved in these kind of interventions – urban exploration, graffiti, parkour, occupations of space, rogue picnics – is important. The more we do it the harder it is to stop them from happening, because it just becomes a normal part of the social and cultural practice of the city."
When it comes to architects, taking on the status quo isn't so easy, though. "They are very limited in what they can do," Hagan argues. "Anything that requires a large amount of construction requires a large amount of capital, and unless they are architect-developers they don't have access to that capital; they don't call the shots."
Defending the Public Realm
There are certain things that architects can actively push back against however. "When an architect is handed a brief saying 'we want you to create a space that keeps people moving' they should resist," Garret says. "They should make the case that if people want businesses in their space to make money, then people should be allowed to linger. They should also stop engineering park benches so that people can't lay down on them; they should design cities that people actually want to live in."
Architects searching for inspiration in designing these kinds of spaces could do worse that look back to the 1950s, where for a good few decades after the war, local authority architecture and urban planning departments were brimming with talent, energy and a genuine desire to change society.
"Architects should be defenders of the public realm," says Hagan. "They should take it upon themselves to represent the public in the production of public spaces. This was true in the 20th century when the state was paying for these spaces and it needs to be true again now."