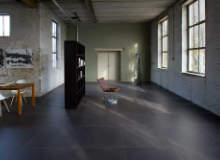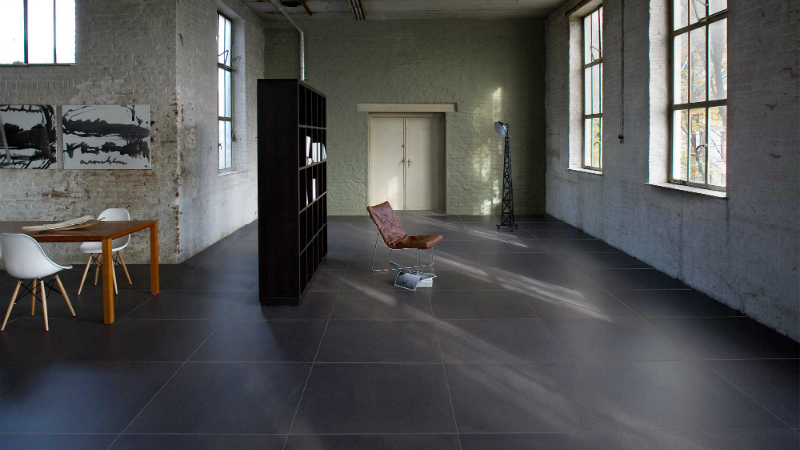 The Quartz collection is a new generation of unglazed porcelain floor tiles with a rich appearance and pure ceramics due to the natural striations of sandy-looking grains and crystal-like particles in combination with varying colour hues.
Quartz is available in large sizes, such as 60cm x 60cm and 90cm x 90cm; in neutral and earthy, warm and cool shades; and in both smooth and relief versions. Every tile is unique. A surface of Quartz tiles therefore has a rich look thanks to the subtle gradations between the tiles.
The Quartz collection is also ideal for plank formats. A dynamic appearance is achieved with multiple-width planks and the corresponding joint patterns. Mosa has introduced a number of new laying patterns for the collection. Quartz has a high finish level and ground edges, and can be laid with a minimum joint of 2mm.
These rock-hard floor tiles also contain 20% recycled materials, their production is environmentally friendly in accordance with the Ultragres principle, and they naturally satisfy strict Mosa quality standards. The tiles are hard-wearing, scratch-resistant and frost-proof. The collection carries the Cradle to Cradle® Silver certificate.
Quartz is available in two surface finishes. The flat tiles (V) have a grainy surface reminiscent of sand, with tiny crystals that constantly reflect different colours. The entire effect is that of the purest quality ceramic. These tiles are suitable for nearly every use.
The tiles with a relief structure (RQ) have a more robust appearance. Their roughness makes them ideal for exterior application and wet areas. Quartz tiles are fully sintered and offer pure ceramic quality, making them extremely strong, colourfast, scratch resistant and water, weather and frost-proof.
Different sizes, colours and tile patterns can accentuate the aesthetic qualities of every space. The Mosa Design Team has developed various tile patterns that do full justice to the possibilities afforded by this collection. The interplay of lines between tile and joint results in intriguing surfaces. The variations are numerous and provide a fresh vision on walls and floors.