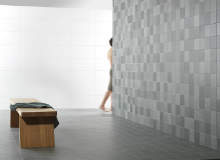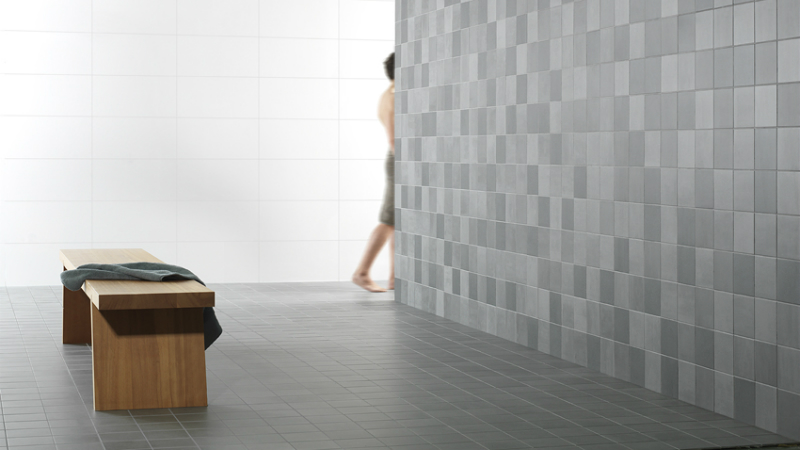 Mosa's Scenes is a stylish and adaptable range of tiles that creates fascinating scenes in an effortless, single gesture, while producing bespoke wall and floor colour gradations that give depth and richness to any surface. The tiles in this flexible and original range are available in eight colours (in both warm and cool tones) and four textures each, in a 15cm x 15cm size.
Every tile has its own identity so in any combination a scene is created by default. The collection has an easy design process that allows for patterns to be created naturally thanks to the tiles' convenient, easily manageable dimensions and subtly coordinated shades of colour. The Mosa Scenes collection can function at limitless scales, from bathrooms and housing applications to hospitality and retail areas.
The series' hard-wearing make and vivid, yet natural colour shades mean that the Scenes range is an ideal option for a large variety of applications, from bathrooms and housing applications to hospitality and retail areas. Additionally, its texture creates the effect of an elegant patina, cleverly designed to maintain an ageless aesthetic. A great choice for any designer and architect, Scenes is a thoroughly practical, natural and cost-effective collection.
Mosa Scenes comes in eight colour groups, featuring four cool and four warm colour sets. To enhance the concept of depth in creating a more personalised environment, each colour group has been assigned four different textures: grain, clay, sand and grit. The fine-granular tiles create a softer visual against the larger granular tiles. The play of textures creates subtle nuances in the overall pattern and is inspired by the natural textures of soil.
Along with a smooth surface, Mosa Scenes tiles are available in a micro-relief (MR) surface. This solution is available in eight colour groups in the grain texture.
The Scenes collection includes a range of accessories that provide functional and aesthetic value in creating a complete solution. For example, a special coved skirting is available to create a smooth wall-floor transition, and a wide range of white matte or glossy Mosa wall tiles can be used to add the finishing touches to the scene.