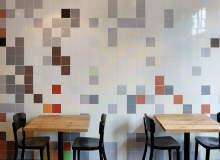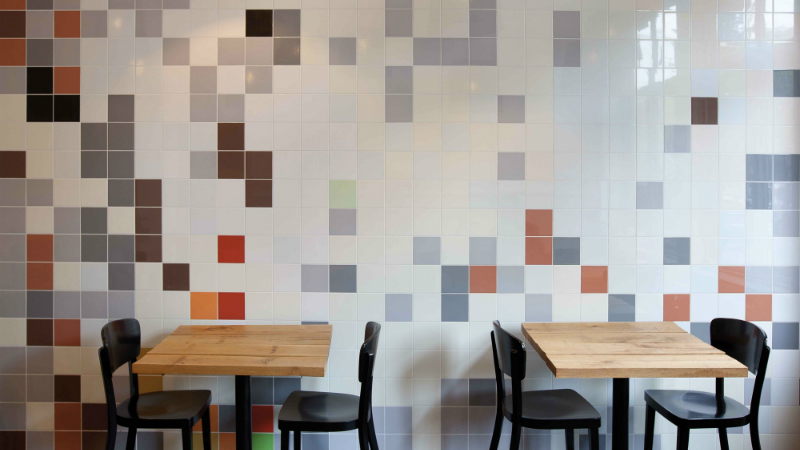 Mosa's Global Collection offers fashionable new colours such as anthracite, warm grey and porcelain white. It is a complete series of matching wall and floor tiles that can be combined in many ways, and comes with a full range of accessories.
Modular, hardwearing and nonslip, the extensive Global Collection combines functionality, aesthetics and affordability, making it ideal for architects and their clients in large-scale building projects. The wall and floor tiles are perfectly matched to each other in terms of colour and size and can be combined in a wide variety of ways. The Global Collection is modular, hardwearing and includes a range of nonslip tiles with a variety of accessories, such as corner pieces and skirting elements.
The Global Collection series comprises 40 different shades of colour. The restrained colours are available in glossy, satin and speckled surfaces and include various shades of white. Glossy tiles are available in dominant colours, making them ideal for accents or walls that stand out boldly. Due to the integral approach to colour in the Global Collection, the optimum match between wall and floor is always assured. All the tiles and accessories are perfectly coordinated with each other.
The Global Collection focuses on practicality, aesthetics and durability. The programme has been designed to be fully modular, with an extensive choice of colours, sizes, nonslip tiles, and a host of accessories, including practical extras such as stair treads and blind guidance tiles.
The sizes of floor tiles in the Global Collection series are modular, which means that wall and floor tiles can be perfectly matched to each other. This makes it possible to achieve a seamless match between wall and floor, with the joints from the floor running elegantly into those of the wall.
The wall tiles are available in three modular sizes: 10cm x 20cm, 15cm x 15cm and 15 x 30cm. This wide choice of sizes and colours provides designers with the freedom to create beautiful, simple patterns, for walls and floors.