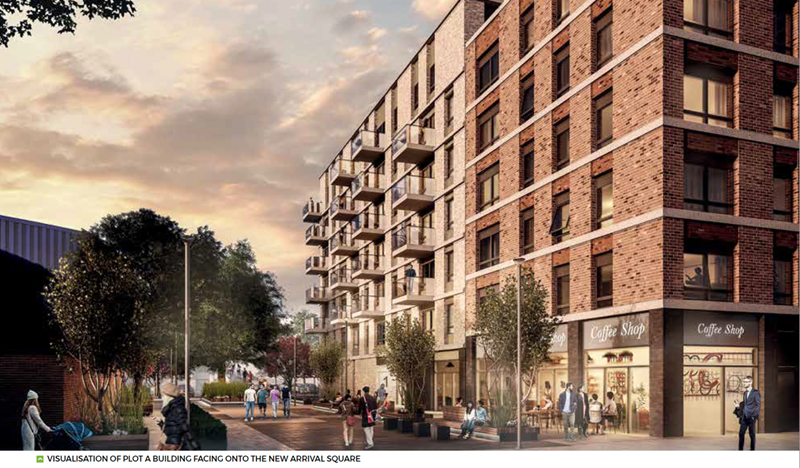 Mace submitted a planning application for its £350m scheme to transform 14.5 acres of Stevenage town centre in the UK.
The submission came after several months of consultations with businesses and local residents on how the town should be revamped.
Known as SG1, the proposal intends to renovate a major section of the town centre. This will complement the new developments already underway at the north end of Queensway and at Stevenage's town square.
---
Toyota revealed plans to build a sustainable prototype city of the future on a 175 acre site at the base of Mount Fuji in Japan.
To be known as Woven City, the future city will facilitate a fully connected ecosystem running on hydrogen fuel cells.
Woven City was visualised as a living laboratory with self-driven vehicles, robotics, smart homes and other features in the real-world environment and integrated with artificial intelligence (AI) systems.
---
UK-based property investment and development business Quintain awarded a £130m contract to McLaren Construction for the delivery of the fourth development at Wembley Park in London, UK.
This contract took the total value of McLaren's projects at the site to £302m.
Part of Quintain's 85-acre Wembley Park estate, the latest contract was awarded to McLaren for the construction of plots NW09 and NW10. These plots are made up of three distinct blocks.
---
Birmingham Council committee members approved the proposal to build a 61-storey skyscraper in the western part of the city.
To be situated at 100 Broad Street, the 193m-tall skyscraper will be 40m taller than the city's current tallest building.
Once complete, the tower will be one of the tallest structures in the UK, outside of London.
---
Willmott Dixon secured a $13m (£10m) contract from Harrogate Borough Council for the expansion of an existing leisure centre in Ripon, the UK.
The company is a provider of leisure, fitness and wellbeing accommodation and has delivered dry and wet facilities valued over $391m (£300m).
Under the contract, Willmott will expand Ripon's leisure centre by building a new 25m pool with related changing and community areas.
---
Birmingham City Council's Planning Committee approved proposals for the redevelopment of Alexander Stadium in the UK.
The latest development marked a key milestone in the preparations for the Birmingham 2022 Commonwealth Games.
As part of the £72m regeneration plan, the stadium located at Walsall Road, Perry Barr, is set to become a venue for diverse sporting, leisure, community and cultural events in the future.
---
JLL Capital Markets arranged an $870m construction loan for the first phase of the South Station redevelopment project, a 1.9 million feet-squared mixed-use project in the US that seeks to transform Boston's transportation hub and skyline.
The project will feature a 1.2 million feet-squared, 51-storey mixed-use tower that will be constructed at Boston's South Station transportation hub.
The project's initial phase is expected to be delivered in 2024. It will feature around 166 residential condominium units and over 500 parking spaces, as well as offering around 660,000ft² of office and retail space for rent.
---
Architecture, engineering, design and planning firm HOK is set to create new retail esports venues for global company Allied Esports.
Allied Esports and HOK will start the work immediately and plan to open the first location later this year at Simon's Mall of Georgia in Buford, Georgia, US.
Visitors will be offered a variety of e-sport and gaming experiences at the new on-mall locations, including nightly tournaments, PCs and consoles for walk-up play and daily use, and broadcast and streaming production capabilities.