Geberit is a world leader in advanced plumbing and plastics technologies. With over 135 years at the forefront of the plumbing and drainage industry, and having built a reputation for innovation, quality and reliability, Geberit has an expanding resource of knowledge, which it applies to all areas of its business.
GEBERIT MAPRESS
Geberit's cost effective and reliable pipe and fittings press connection systems are available in a wide range of sizes (12mm to 108mm) and materials (stainless steel, carbon steel, copper and CuNiFe) to suit many industrial applications such as water, compressed air, steam, gases, oils and disinfectants.
Geberit's pipes and fittings come together to create supply systems for all types of installation; from household water and gas supplies through to sophisticated industrial facilities. Whatever the application and wherever the location, Geberit's press fitting technology ensures a safe connection and provides the following benefits:
Improvements to health and safety
Flexible in design and multifunctional in use
Fast and reliable jointing techniques
Environmentally friendly manufacturing
Light weight
Excellent corrosion resistance
No hot works
Fast and easy to set up
GEBERIT MEPLA
Geberit's Mepla is a multi-layered composite piping system suitable for hot and cold water, heating and chilled water supplies, Mepla system pipes and fittings are available in diameters from 16-75mm and are suitable for an operating pressure of up to 10 bar and temperatures of up to 70°c.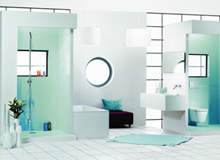 Geberit's Mepla composite structure offers the flexibility and ease associated with the installation of plastic pipes combined with the durability and sustainability of a metallic system.
Inner cross-linked polythene later improves hygiene by resisting lime scale build up, aging and wear
Composite structure allows quick, easy bending of Mepla pipes, without the need of extra brackets to support the system
Excellent insulation with thermal losses 900 times better than uninsulated copper pipe
Outstanding corrosion resistace as plastic and aluminium construction will not corrode, offer a service life in excess of 50 years
DRAINAGE SYSTEMS
Geberit HDPE provides specifiers and installers with complete flexibility for both above and below-ground drainage applications. Proven for over 40 years in mainland Europe, HDPE is a highly durable material and as such is increasingly used as a direct replacement for cast iron and PVC-u systems. HDPE's features include:
Full BBA approval
Suitable for both above and below-ground installation
Highly durable – resistant to crushing, abrasion and impact
Temperature range -40°C to +80°C (up to +100°C intermittently)
Suitable for both on and off-site fabrication
Prefabrication is another area where Geberit's HDPE is ideally suited either on or off-site, and is perfect for use with 2D and 3D style modules for multi-service applications. Highly efficient for industrial, commercial, leisure and housing projects, where plumbing arrangements are frequently repeated, the HDPE can be quickly installed, reducing the need to re-locate residents and making it ideal for both refurbishment and new project work.
Designed and fabricated to meet the on-site requirement dictated by special architectural features, HDPE can be produced singly or in multiple quantities to suit the project. They can also supplied in virtually any size or shape and customized to provide solutions to otherwise unsolvable design problems.
WASHROOM AND BATHROOM SYSTEMS
Geberit's sanitary systems range incorporates frames for wall-hung toilet ware, concealed WC cisterns, urinal flushing systems and infrared taps together with an extensive range of flush plates.
With its concealed rigid steel frame, incorporating an almost silent cistern and keeping all the plumbing out of sight, Geberit can transform traditional bathrooms into elegant and modern spaces. Geberit frames are the result of decades of experience in wall-hung bathroom technology throughout mainland Europe.
Easy access to the valves and cistern for maintenance is available through a removable surface-mounted flush plate. Flush plates are available in a wide range of styles and bespoke finishes to suit your design scheme and most offer the economy of dual flush. In addition the off-the-floor design means easy cleaning for the entire toilet area, not just the most easily reached places.
TRAINING AND CERTIFICATION
The ground floor of our main office block is a dedicated showroom and training centre providing product and technical training for both employees and customers. We offer one of the best training facilities available to installers, providing both technical and hands-on training. Initial and refresher training is also available – either on or offsite.
Following successful completion of our training programs, certificates and site cards are issued to both employer and employee.