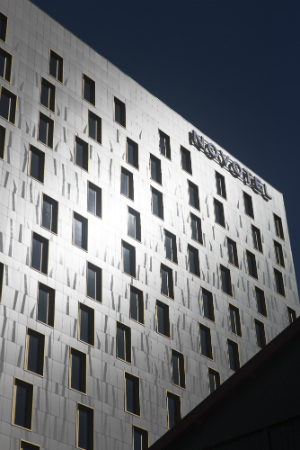 "The implementation of sustainable solutions in the hotel industry can extend beyond simply washing towels less frequently or encouraging guests to take shorter showers.
"It might even reach so far that the positive results produced by the implementation of sustainable measures can give that little extra bit of luxury back to the guests. As an architect you really have to think about things like that." This is the opinion of Robert Mulder of the architecture firm Mulderblauw architects, that designed the exterior and the interior of the new Novotel hotel in Hoofddorp, the Netherlands.
Mulder explains, "An overnight stay at a hotel needs to be an experience for the guests. This is why our designs emphasise the human and social aspects. Sustainability flows forth from this commitment and pertains to the future. At Novotel Hoofddorp we wanted to design a building that could be transformed into office spaces or permanent homes in the future with minimal modifications.
"This type of flexibility, in addition to energy reduction and the smart use of materials, determines its sustainability. This means that you need to be open to other perspectives and we found this openness at Mosa. They distinguish themselves through their production of Cradle to Cradle tiles in the Netherlands and create a space for dialogue. Mosa designers work together with us every time to create something unique. This collaboration is important, as it makes the final design even better.
"At Novotel Hoofddorp we wanted to create a light facade that reflected the concept of the reed beds that line the canals of the surrounding Haarlemmermeer. Ceramics are very suitable for this, as you can decide on the colours and feel of the surface and shape the desired look of the whole.
"Together with Mosa we looked for a way of extending the reed-design all the way to the top of the building using tiles. As we explored the possibilities together the design became increasingly abstract and now the facade creates a bold interplay between light and shadow through the alternation of matte and gloss surfaces. These tiles not only showcase their own print but also reflect the actual landscape and Dutch skies above in a highly unique way."