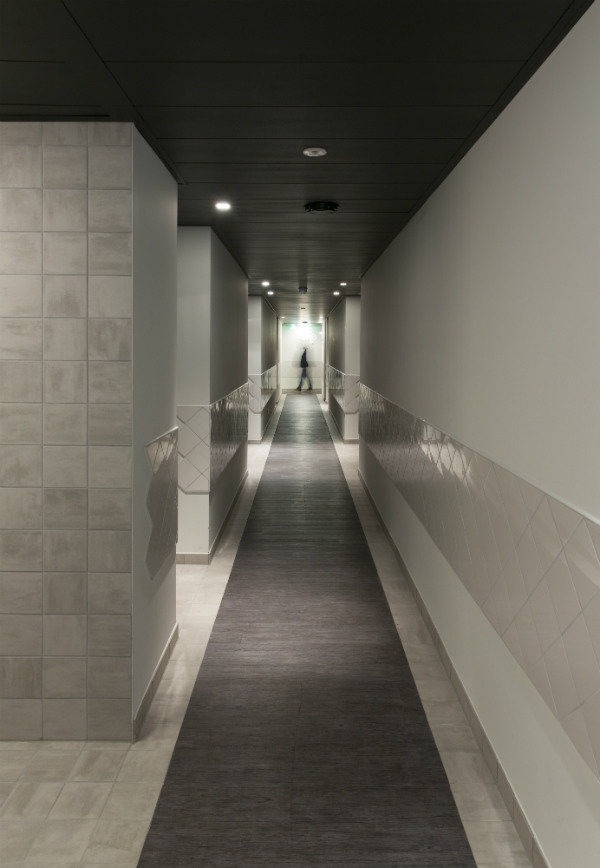 Interior designer Roger Haan was asked to come up with a distinctive hotel concept. The design needed to incorporate the history of the existing building and the dynamic environment, bring the outside in, create rooms for more than two people, and lead to a scalable product that could be applied in different cities. In addition to this long list of demands, Roger had a condition of his own: he would exclusively work with Mosa tiles.
Kaboom Hotel is situated directly opposite Maastricht's central railway station and caters specifically to the modern traveller, or 'the traveller of tomorrow,' as the director of Kaboom Hotel, Rino Soeters, prefers. We are all travellers of tomorrow – you and me and everyone else.
This traveller values a good bed, a good shower, fast and free Wi-Fi, and sincere service, but doesn't want to pay an outrageous amount for it. Kaboom offers the total package: they have everything you need for a comfortable stay, without the unnecessary bells and whistles.
The name 'Kaboom' suggests an explosion or a clash; a clash between the quality you get and the price you pay for it. Kaboom is housed in a building that dates from 1905. On the outside, the building reflects the architectural style in which it was built – the Amsterdam School.
On the inside, it is ultra-modern. 'We constantly strive to create contrasts to keep our guests on their toes,' explains Rino. 'We've incorporated the "kaboom" concept into everything. We hope our guests notice this contrast when they leave and wonder what happened: they spent fifty euros on a room but woke up feeling like they spent the night in a luxury hotel.'
The bathrooms feature tiles from the Mosa Colors and Global Collection, with 15cm x 15cm tiles for the floors and 10cm x 10cm tiles for the walls. The 10cm x 10cm high gloss tiles reminded Roger of days gone by – of old-world Paris and the charms of yesteryear. He deliberately sought out this contrast between old and modern by combining uniquely sized diagonal tiles with an ultra-modern rain shower.
'The reason I wanted to use Mosa tiles for this project is that there are such strong associations between Mosa and Maastricht. We should be proud of this bit of cultural heritage, as it strengthens the Maastricht brand and vice versa.' Rino adds that a brand like Mosa can really enhance the Kaboom brand. 'Using premium brands makes my own brand premium as well.' Like Mosa, Rino is a strong proponent of the local-for-local principle.
Rino has collaborated with Mosa on various hotel concepts over the years and uses Mosa products as standard. 'They have short lines of communication and they're always willing to lend a hand. Mosa also has its own designer, who collaborated with our architect on this project. Together, they came up with extremely useful solutions.'
Sometimes, an architect can benefit from discussing or brainstorming with a colleague who knows a lot about the project or a certain element. Mosa offers architects the opportunity to use its products.