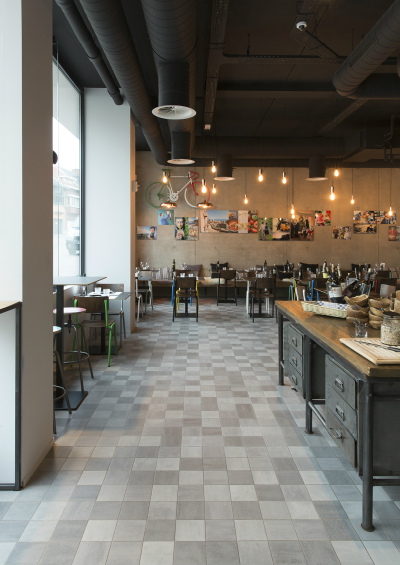 Peppe Giacomazza made his name with La Botte, his Italian restaurant in Genk, Belgium, that serves top-flight Italian food. Not long ago he opened his second restaurant, Peppe's, barely 50m from La Botte. It is an entirely different concept, but of course it features the same delicious Italian dishes.
Massimo Pignanelli of UAU collective designed the interior. "A common feature of all our designs is that we don't want to reveal everything immediately. We want the user to go on a journey of discovery through a building. Walking from room to room, the visitor experiences different atmospheres. Furniture and the products on display, as well as the materials used, such as the 15cm x 15cm Blend and Scenes tiles from Mosa, all make their own contribution."
Tailor-made approach
"At UAU we never start work immediately. First we listen to the clients. We genuinely make time for that, because we want to provide the right answer and in each case offer them more than they actually ask for. Even if we do so unconsciously, we always pursue something new, something different. That attitude is precisely what I experience from Mosa. They listen to their customers and share ideas.
"They win them over with their approach and feeling for design. They develop a tailor-made solution for each customer and go the extra mile in delivering their service. That's where we see eye to eye with them; we apply the same fundamentals in our approach to clients."
Italian homeliness
"Peppe's concept is distinctive and based on Italian homeliness. It's a bistro, where you enter and are welcomed into a kind of living room. It's a place where you can also buy the products which Peppe himself uses in his kitchen and which you can therefore also eat there. From the living room you move through to the central part, the focal point of every Italian house – the kitchen.
"It's the place where the whole family comes together, to talk and share joys and sorrows. Behind the show kitchen is the dining area, the final destination. By making the kitchen central, each area, and of course each guest, is permanently in contact with what's happening in the restaurant. They form part of the whole."
Tiles with myriad tonal gradations
"For Peppe's I wanted simplicity, by using raw materials, combined with casalinga, or homeliness. As you enter you immediately notice the light-grey concrete floor and the ceiling bristling with black tubes and ventilation ducts and between them bare suspended fittings. That gives the interior an industrial character. The long bar is made of stylish white Carrara marble and behind it there's a wall tiled with the small 15cm x 15cm Blend tiles from Mosa.
"The seven colours we used there, from soft yellow, green, and blue to very bright white, form a splendid, refreshing contrast with the robust darker black and grey tones which you see as you enter. It gives the industrial image the warmth that's appropriate for that island where products are both cooked and sold and where there's enormous dynamism. We also used that small-format tile on the floors of the dining area, together with the exclusive Scenes series, which has a gradual colour gradient and is very suitable for intensive use.
"Here we opted for different shades of grey, in some cases tending more to black. We then added accents with wooden chairs with coloured frames. In the bathrooms and kitchen we went for a combination by creating both tiled floors and tiled walls. The varying combinations of tiles and concrete draw clear lines in the space and create different, comfortable atmospheres."
Challenge for Mosa
"The smaller-format tiles are also wonderful to work with. They help evoke the spirit of an Italian kitchen, although the design is naturally an abstraction. The Scenes and the Blend series are both expressive, but also reliable, dimensionally stable, and of high quality. They may be a little more expensive, but for that you get a team that works with you and shares ideas, and that invites you to come and see the factory to examine all the possibilities.
"Personally I'd like to see Mosa producing even smaller tiles, because we often work with rounded walls. I've already asked Mosa and they've promised to investigate. In Maastricht they always try to give a customer what he wants."