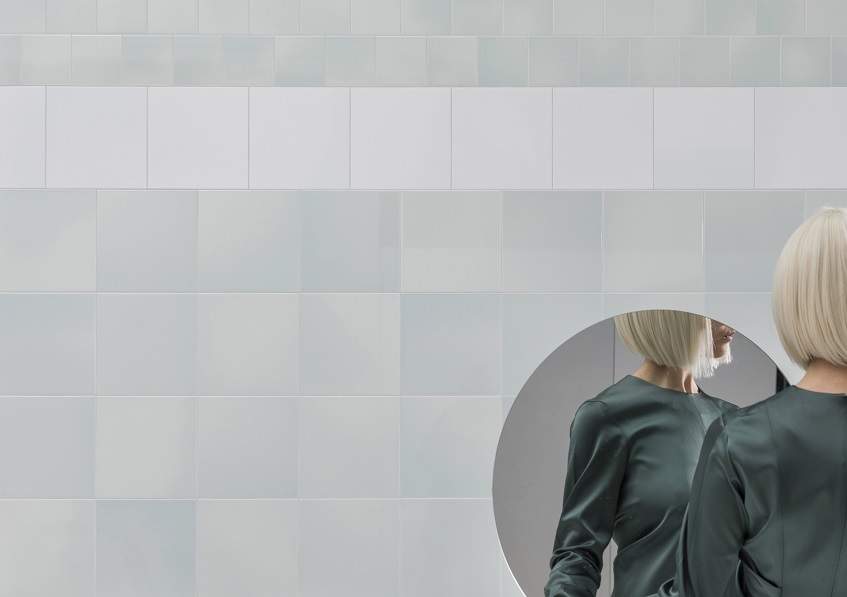 Mosa presents Murals Fuse, a ceramic series that offers a fresh approach in designing with tiles. Part of the award-winning Murals line, Fuse is lively and interactive, transforming architectural surfaces into vibrant works of art and bringing the user to the centre of the spatial experience.
Murals Fuse surfaces are dynamic, yet subtle and playful. The secret is in the series' innovative colour arrangement. Playing with our visual perception and making the most of the use of tone variations, Fuse encourages the eye to merge different colour gradations. When translated onto a surface, this produces a fluid and animated effect, almost imperceptibly creating the illusion of movement. This means that each piece can integrate smoothly and flexibly into its surroundings.
Murals Fuse is a series of wall products that spans eight colours and three tile sizes, ready to adapt to any design through countless configurations. By working with Fuse, you can create the atmosphere of your choice, be it highly expressive or quiet and calm. Fuse tiles feel exquisitely handmade, featuring a luxurious, tactile finish that exudes traditional, high-quality craft.
Fuse was designed to expand Murals' existing iterations – Blend, Change and Lines – by harnessing the power and wonder of human perception. And while all these series have their own, distinct identity, they can also work together to form extraordinary patterns and combinations when mixed, providing an invaluable, versatile, and rich toolbox– a clever ceramics palette that is truly befitting a designer's creative flair.