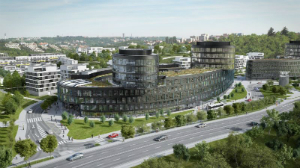 At the end of 2013 the well-known investment group Penta started the construction of a new city district in the area called Waltrovka in Prague, an industrial heritage ground with the famous Walter aircraft engine factory as most important site.
Aviatica is the first building of the extensive Waltrovka development. New and timeless offices will replace heavy machines in the original Walter factory. Penta plans to invest more than CZK5bn in total, with the ambition to create a new pleasant city for work, living, shopping, and leisure.
Penta has chosen Jaga as their business partner for energy saving climate solutions.
A new Jaga showroom and advice centre opens 9th September
In Aviatica, the first building of the Waltrovka development, already 700 Jaga mini canal built-in solutions, 956 mini freestanding radiators and 50 Strada wall-mounted radiators have been installed. Other office buildings, the restoration of the original Walter aircraft engines factory and a residential area with about 800 high quality homes and apartments are in preparation.
Jaga is convinced to have energy-saving climate solutions for all of these buildings, and therefore a new showroom / advice centre will be opened in Aviatica. This 150m2 showroom, with a 20m long show window and our new Czech sales office, will be the perfect place to show the market our first class design solutions for heating, cooling and ventilation.
Eye-catching products in an eye-catching showroom
All Jaga products are environmentally friendly. Our expositions and showrooms are built according to the cradle-to-cradle philosophy.
Recycled materials and product parts are upgraded and re-used for the interior design. The walls are very striking, constructed from recycled floor grills or radiator front panels.
The Aviatica will be immortalised through the creation ofthe famous Walter NZ-60 aircraft engine completely out of Jaga heat exchangers and other product parts. Come and see for yourself.