Established in 2001, Washroom Washroom Ltd has firmly established itself as a reputable supplier and installer of quality washroom and changing room systems through the continued repeat business of satisfied contractors and architects.
During this time the company has worked on a wide range of prestigious projects as diverse as public sector and education buildings to the highest specification commercial, retail and leisure projects.
Our range of washroom cubicles, washroom vanities, changing room lockers, cubicles and benching together with our bespoke joinery services, have been developed to meet the changing demands of our diverse markets. These developments are clearly demonstrated on our latest washroom ranges specifically designed for the education and leisure sectors.
Washroom manufacturing
All Washroom's products including toilet, shower and changing cubicles, IPS duct panelling, vanity units, lockers and benching, are manufactured to site specific requirements with total flexibility.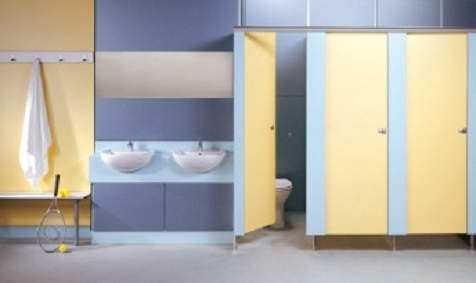 Forte washroom cubicles manufactured in solid grade laminate, ideal for high traffic areas.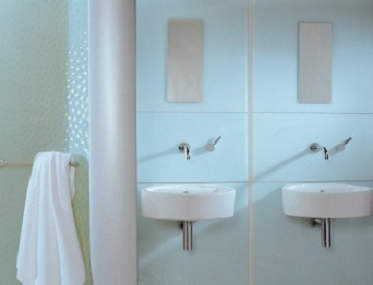 Concerto IPS provided to site ready assembled for rapid installation.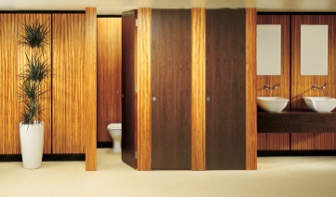 Alto, contemporary washroom cubicles in a choice of materials and finishes.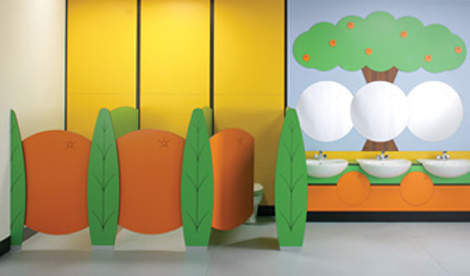 Frutti, a child friendly washroom cubicle with complementary vanity, designed and machined to the shape of fruit.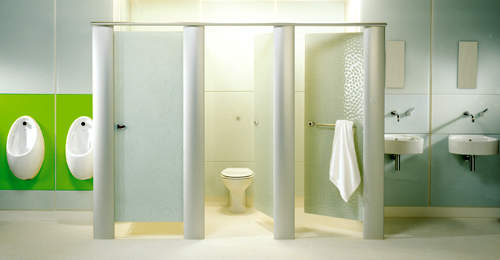 Washroom Washroom's Special Works Department offers a bespoke washroom, changing room and specialist joinery service for individual requirements.
Washroom installation
Offering a complete service including design, manufacture and installation, Washroom Washroom has the resources to meet the most demanding schedules and individual project requirements whilst providing an extensive choice of systems to suit a range of applications.
Cubicle ranges
From Basso our stylish budget cubicle to Alto executive partitioning, all cubicles provide a competitive solution for any washroom requirement with a quality and style well above the norm.
Budget cubicles
Basso – style & performance on a budget.
Basso cubicles comprise 19mm moisture resistant melamine faced chipboard
panels edged all round in a PVC lipping, supported laterally by a unique aerofoil profiled headrail.
Aria – for all dry areas.
Providing increased impact resistance, Aria cubicles are manufactured from high pressure laminate bonded to 18mm MDF core, lipped with either matching laminate or corresponding PVC edging.
Cubicles for high-traffic areas
Forte – ultimate durability for the toughest environments.
Forte cubicles are manufactured from 12/13mm solid grade laminate, an extremely robust and waterproof material.
Contemporary cubicles
Duet – a versatile cubicle fit for the Olympics.
Differing from other cubicles, the front pilaster is a composite structure comprising a pair of aerofoil sections sandwiching a feature panel.
Senza – elegant and minimalist.
Available in either satin anodised aluminium or Optisheen satin polished stainless
steel, the slimline pilasters and headrail offer a contemporary solution.
Alto – precision engineered for unrivalled quality.
Flush fronted cubicles manufactured from any modern materials including gloss laminates & lacquers, screen-printed & coloured glass and composite plastics.
New cubicle products
Education
Frutti – friendly and fun cubicles.
Offered in high-pressure laminate or solid grade, the panels are manufactured to produce the impression of fruit.
Bambino – safety and durability for junior schools.
A full-sized cubicle with reduced height, shaped doors to soften the visual impact.
Intermezzo – maximum privacy ideal for modern school washrooms.
Manufactured from solid grade laminate for unparalleled durability with floor to ceiling aluminium pilasters providing a stylish rigid structure.
Shower cubicles
Luminoso – bright and safe shower installation.
For unparalleled safety all panels are manufactured from 12mm cast Acrylic material with an etched texture cast into both faces during the manufacturing process.
Arpeggio vanity units
Almost any material specification is available including SGL, HPL, glass, solid surfacing, natural stone, engineered stone and real wood veneers.
Alternatively should you wish to submit a completely new design our special works department can help develop from design through to the completed installation.
IPS duct panels
Concerto IPS duct panels are available in an extensive range of materials including real wood veneer, glass and solid surfacing.
Washroom services
Washroom offers a full range of washroom design, manufacture, installation and technical services including:
Full installation service
Specialist design and CAD drawing for standard and bespoke installations
Online documentation including CAD blocks, NBS plus specifications and company information such as O&M manuals, method statements and CIS details