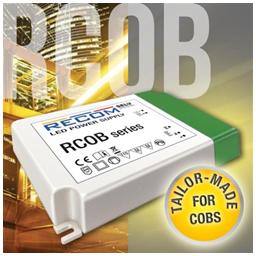 The new RCOB LED driver series from RECOM has been developed to meet the specific requirements of COB (chip-on-board) LEDs.
The driver series includes 11 models, with output voltages between 25 and 44 VDC, and constant output currents of 350mA to 1050mA, thus offering a suitable driver for virtually any application.
The RCOB drivers are surprisingly affordable, come with active power factor correction (PFC) (>0.95), and achieve efficiencies of up to 90%. Thanks to their compact and flat design (106mm x 67mm x 22mm); the drivers can be integrated into any type of lighting system. The fact that the inputs and outputs are located on the same side of the driver makes installation even easier. The drivers of version RCOB-A come with a 1V to 10V input, and can be dimmed from 0% to 100%.
As the new driver series has been designed for the European market, its input voltage is 230VAC (198VAC to 264VAC). The permissible operating temperature range is -20°C to 50°C. A number of safety features protecting the devices against short circuits, overload, overvoltage, and over-temperature ensure maximum availability and reliability. The RCOB LED drivers come with a three-year warranty.