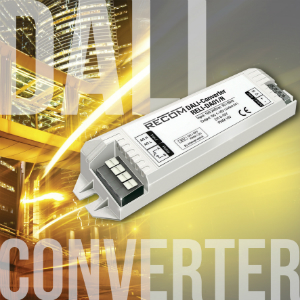 Our requirements for modern lighting solutions are convenient control for effective lighting, at the lowest possible prices.
The easy installation and programming of the individual components makes the digital addressable lighting interface (DALI) network an especially ideal solution for a system in single rooms.
Recom´s new signal converter, RELI-DA01/R, is an essential link between dimmable LED drivers and DALI components from other manufacturers´ devices such as switches, dimmers and sensors.
The converter communicates with the DALI controller, and receives commands which it converts into PWM, 0V-10V or 1V-10V signals. Up to six LED drivers can be connected to the control output. A built-in relay can be used to switch off the LED drivers under software control to give zero no-load consumption.
Due to a wide input voltage ranging from 90VAC to 264VAC, the RELI-DA01/R can be used worldwide without further modifications. Measuring 150mm x 40mm x 30mm (LxWxH) it is very compact and weighs only 100g. It is compliant with the DALI IEC62386 standard and comes with a five year warranty.