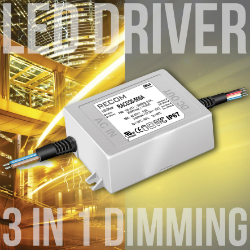 RECOM expands its already robust portfolio of dimmable LED drivers with the addition of two new three-in-one dimmable LED drivers: the 25W RACD25-A and the 35W RACD35-A.
Each series features three-in-one dimming, allowing the modules to be dimmed with an analogue signal (1V-10V), PWM, or external resistor. These drivers round out RECOM's already comprehensive portfolio of dimmable LED drivers, and fulfill the demand for mid-range LED power supplies.
Due to a wide input voltage range (universal AC input 90VAC-305VAC), these versatile drivers are well-suited for power grids worldwide. Each is available in one of five different types of output current, ranging from 350mA to 2100mA, making them capable of powering a wide range of CoB LEDs.
Each unit offers an excellent power factor (>0.98 at 120VAC, >0.93 at 240VAC and >0.9 at 277VAC) and an efficiency of more than 81% for the RACD25-A and 83% for the RACD35-A. Both modules are just slightly larger than a deck of cards (102mm x 73.5mm x 33mm), and integrate easily into almost any application.
Fully protected against short circuit, overload, and over-temperature, these units carry double-isolated wires and come housed in IP67-rated casing, making the drivers environmentally versatile, usable both indoors and outdoors, in damp and in wet areas. Ideal applications include general lighting, public buildings, retail, outdoor lighting, architectural lighting, and bathrooms.
The new RACD25-A and RACD35-A 3-in-1 dimmable LED driver series are UL8750 and EN61347 certified, and also comply with the European harmonics standard EN61000-3-2 Class B. Each driver is backed by a five-year warranty.