Grant Westfield manufacture cubicles, wall panelling and access systems for washrooms in markets as diverse as the education, commercial, healthcare, transport and hotel and leisure industries. From DDA and environmental regulations to the pinnacle of design input, your washroom project objectives will be met on time and on budget.
Entity cubicle systems
The Entity cubicle system offers clients a wide choice in terms of layout, dimension, style and material finishes; from toughened glass to native real-wood veneers. The carefully engineered door posts contain integral pivots and concealed closers. With beautifully designed locks, legs and accessories the stunning appearance of Entity is a must for the high-end washroom.
High quality washroom veneers
Façadeflush has been developed to allow architects and designers to create stunning solutions to washrooms using high quality solid colours or natural wood veneers from sustainable resources. The system is flush and flexible, facilitating smooth faces with minimal joints and fittings while providing flexibility in dimension and composition. Face panels and doors are carried on GW floor mounting assembly for leveling and adjustment even after installation.
Emergency access cubicle
Grant Westfield's fully Document M compliant emergency access cubicle system allows for emergency outward opening of cubicle doors without the need to break components. The lock edge pilaster is simply depressed, allowing the door to swing outwards. The patented system offers a stylish and robust solution to DDA regulations, and reduced risk of litigation for schools, airports, retail and other public-access washrooms.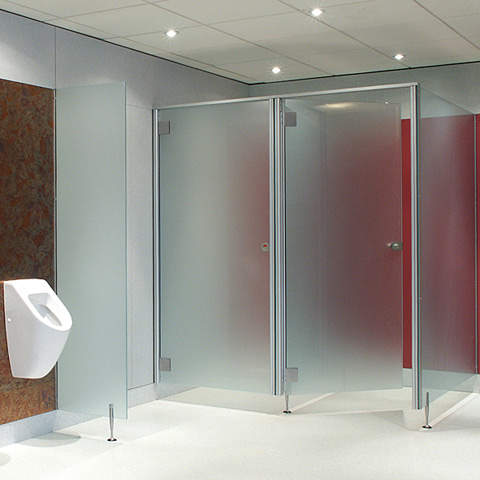 Shown here in a stunning satinova finish, Entity is the definitive cubicle system that combines complexity of design with a beautifully concealed finish.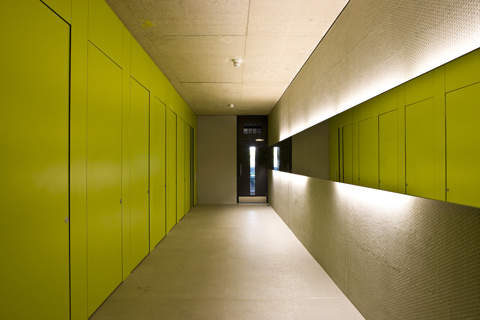 A bespoke version of Façade Flush at Westminster Academy, combining all washroom elements into once personal space.
The Document M compliant emergency acccess cubicle reduces the risk of litigation in high-use areas, such as Gatwick Airport, pictured here.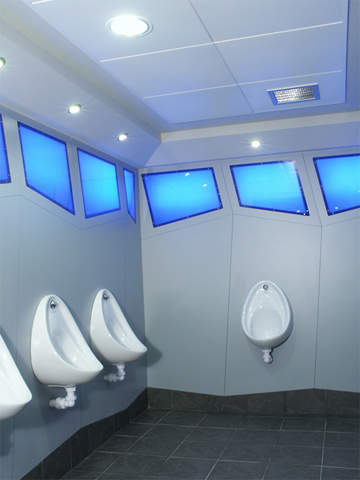 Clipclad combines removeable service concealment panels with options in design to stunning effect, as illustrated at Edinburgh University.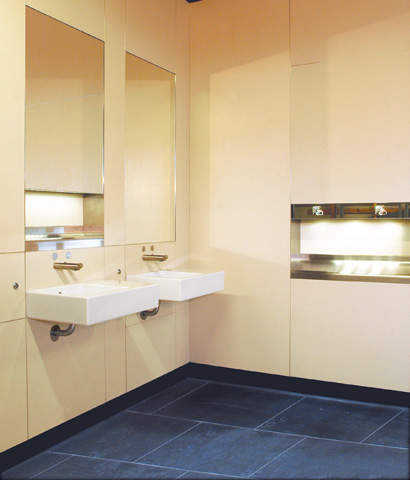 Off-site built fully serviced wall panel modules significantly reduced on-site logistics at Terminal 5, Heathrow.
Clipclad Linear wall mountings
Clipclad Linear is a simple and integrated mounting system for basic cladding and service concealment with full panel access and water/dust protection capabilities where required.
The Clipclad range is available in three different configurations. Clipclad Linear's basic configuration comes with heavy-duty rails for site fitting to walls or supports with mountings and panels to your specification. Clipclad Slim provides standard duty rails and button
fixings providing fast installation and rigid panel mounting requiring only y 15mm / 20mm to rear of the selected paneling. Clipclad Seal adds high performance seals to the Slim system plus fully demountable pressure washable panels where required.
Clipclad Modular wall panelling and access system
Clipclad Modular for independent use or with any combination of products from the Grant Westfield collection, creating factory-built duct modules that link with cubicles, personal spaces, vanity units, lockers and the like to form complete interior sets to suit your specific project requirements. Clipclad Modular Elements are factory build for quality and controlled site installation.
The system allows a choice to be made between first fix metal assemblies, assemblies with panels mounted, or fully serviced elements. In addition, a mixture of Linear and Modular systems can be used seamlessly to suit the particular requirements of each project. Both Modular and Linear system are fully interchangeable and together offer the most cost effective way of fully cladding complete spaces.
Clipclad is load tested to BS EN 5234.