Ceramiche Refin is a leading manufacturer of quality Italian-designed ceramic tiles for living rooms, kitchens and bathrooms. All of our products are ethically sourced and our company is committed to preserving the natural environment which inspired many of our product ranges. At Ceramiche Refin, our success hinges on knowing how to interpret and meet a client's individual needs whilst at the same time guaranteeing both product quality and all crucial safety aspects.
Ceramic tiles design, manufacturing and post-production
Ceramiche Refin can boast an annual production output of 6 million square metres of ceramic tiles, and our 30,000m² of covered facilities house four furnaces, as well as state-of-the-art systems for graphic design and post-production operations.
Our R&D department is comprised of 15 technicians who are involved both in ongoing research into new technical and aesthetic solutions and in stringent Quality Control activities covering all production phases. Qualitative standards at Ceramiche Refin have achieved both ISO 9001 certification and the prestigious French UPEC certification.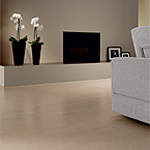 Our Modern range of ceramic tiles bring a fresh and stylish aesthetic to any living area.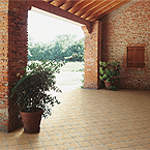 Our classic range of ceramic tiles lend an air of timeless elegance to a kitchen.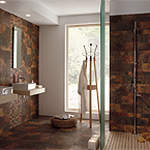 Our range of ceramic bathroom tiles are inspired by nature.
Modern ceramic tiles for living rooms
Our ceramic living room tiles represent the utmost planning and creative expression of an interior design for balanced living spaces in colour and shape. Our Modern range of ceramic tiles are designed to reflect the ambience of the new millennium, bringing cutting-edge trends of design and avant-garde style to your living space. The Modern collection of ceramic tiles are the utmost expression of Refin's identity as a company at the fore front of interior design trends.
Classic ceramic tiles for kitchens
The Classic collection of ceramic kitchen tiles reflect a mature and refined taste that has avoided the ever-changing fashion and design fads. Classic tiles give a kitchen a timeless an elegant aesthetic, and represent the rich history of Refin, a symbol of the Made in Italy style and tradition.
Ceramic tiles for bathrooms
Our range of ceramic bathroom tiles are designed to evoke tactile and sensual emotions and feelings, the perfect choice for those who are more responsive to the shapes and colours of nature. Our ceramic bathroom tiles create a welcoming, natural and soft bathroom, for a trendy and sophisticated living style able to blend with any space.