Brintons is proud to be the world's leading designer and manufacturer of Axminster carpet and is the floor covering partner of choice for many of the world's largest commercial carpet customers.
Axminster and broadloom carpet manufacturing
The UK-based company has a rich heritage and has been redefining standards in carpet design leadership and broadloom carpet manufacturing quality for 225 years. Brintons will fulfil any Axminster carpet project requirement, whether for a large airport terminal building or a luxurious hotel – anywhere in the world.
Brintons has a hand-picked team of 80 designers strategically positioned around the world that, together with Brintons' expert project managers and shapers, work closely with project designers and architects to fully understand what the client requires. This approach allows Brintons to deliver valuable differentiation and style through original design.
Custom-woven Axminster carpets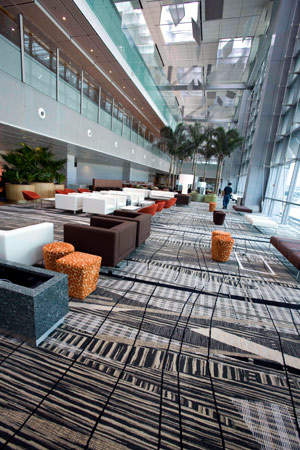 Brintons illustrated its ability to deliver massive projects on time when it recently supplied its hard-wearing Axminster carpet to the new and expansive T3 building at Changi Airport in Singapore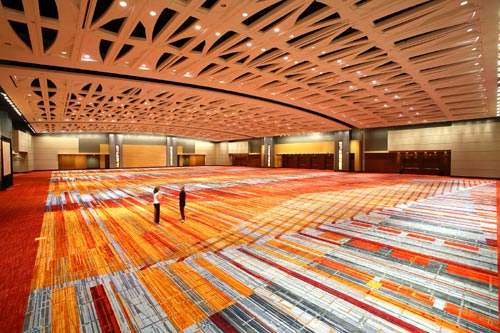 The 40,000 sq. ft Main Ballroom at the Connecticut Convention Center in Hartford, USA is where Brintons has installed the largest repeat pattern carpet it has ever produced.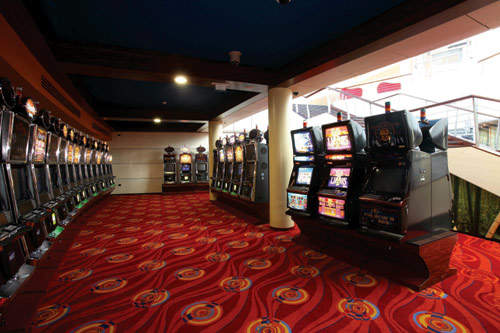 Brintons is a supplier of choice to the gaming industry because of its ability to supply versatile Axminster carpet tiles that can easily be removed to give access to under floor electrical wiring systems.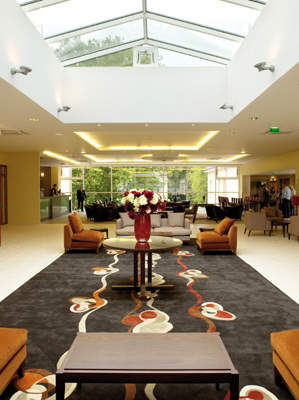 With designers and project managers all over the world, Brintons can deliver stunning results anywhere. Its French team recently worked at the Principal Hayley-owned Château Saint Just property in Paris, France.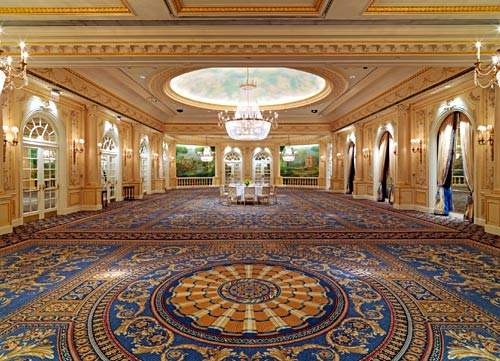 Brintons is capable of developing and manufacturing the most intricate carpet designs ever seen in the commercial sector – as illustrated by its work at the Jumeirah Essex House Hotel in New York, USA.
As the world's largest producer of Axminster carpet, Brintons understands how a custom woven carpet must be manufactured to ensure it meets its performance targets. Brintons' experience and manufacturing excellence ensures that its broadloom carpets are easy to install, offer unrivalled resistance to shading and pile reversal and are extremely hard wearing. The company pioneered the 80/20 blend of natural wool yarn and nylon yarn that ensures all of
its commercial carpet hides soil, has low flammability, is easy to clean and has excellent colour and design retention while also offering excellent resistance to abrasion. A Brintons' Axminster carpet will maintain its luxurious appearance and last longer than any other equivalent commercial carpet.
Commercial carpet designers and design archive
Brintons is the envy of its competitors on many fronts – particularly when it comes to design. The company's designers have a real passion for generating some of the most detailed and visually-inspiring original carpet designs that have ever been seen in the commercial carpet sector. In addition, the unique and exclusive Brintons design archive that dates back to 1791 ensures the company's designers and clients always have access to an invaluable resource of historical design trends and beautiful inspiration that no other company can offer.
Commercial carpets worldwide
Brintons works with commercial carpet clients all over the world and members of its 2000-strong global workforce occupy design and sales offices in all the key markets around the world including Singapore, Europe, the US and Australia. Brintons has state-of-the-art manufacturing facilities in the UK, Portugal and India and will shortly enhance its global customer reach even further by opening a brand-new production facility in China.
Commercial sectors
Very few Axminster carpet suppliers can lay claim to having such a diverse client base as Brintons. The company's impressive reputation has been built on the strong results it consistently achieves in airports – the 100,000m² installation of Axminster carpet at Singapore's Changi T3 being a case in point – the hospitality sector – Brintons is an approved global supplier to the Marriott and Hilton hotel chains – conference centres, public spaces, the marine industry, the leisure sector, and sports stadia. No project is too big or too small for Brintons.
Quality of service
When Brintons starts work on a new project, it's imperative that the customer service it provides during the project matches the quality of the Axminster carpet that is designed and eventually installed.
Brintons also sets itself apart from its competitors by being prepared to undertake projects to all specifications anywhere in the world, providing a full 'peg board' service to ensure the right design is chosen, and having the best
'pattern control' in the market. This makes its carpets easier to install, allows for a quick job turnaround and gives the best possible installation results – all invaluable qualities to a client.