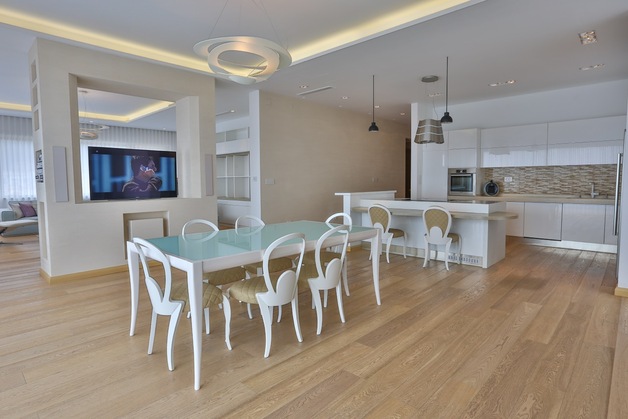 Artcoustic's Installation of the Month for April goes to the team at Nexus Room in Montenegro, for this incredibly inventive installation.
This coastal property boasts stunning views, clean contemporary design and high-quality audio, courtesy of the Artcoustic speakers throughout. Various models have been used with 75-55SLs in some rooms, Diablo SLs in others and clever use of C-1SLs with Panel Sub Micros in the main living space.
The penthouse apartment is open plan and the inventive AV installation allows for the TV to turn, disappear and re-appear as required, for either use in either the kitchen/dining room or lounge area.
Artcoustic C-1SLs are installed either side of the TV with a Panel Sub Micro recessed underneath it. As this is a two sided system, the speakers are mirrored with identical systems installed on both sides.
The lounge area uses the same speakers models, C-1SL and Panel Sub Micro Sub, just installed again on the other side of the central wall. One set is for the kitchen/dining room area, another set is for the living room area.
The bedroom has Diablo SL on either side of the TV, with abstract designs to suit the room.
For more information about bespoke audio installations visit the company website.
---
Image: The TV can be turned for use in the lounge area, or kitchen/diner, thanks to the identical speakers on both sides of the stand. Photo: courtesy of Artcoustic.