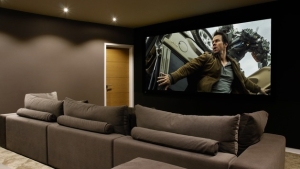 November's Installation of the Month is one of the first completed Dolby Atmos home cinema installed using Artcoustic speakers. The brief was simple: to 'deliver a stunning home cinema room without breaking the budget. Keep it sensible!'
Simply Cinemas in the UK were chosen to deliver the system, and spent a lot of time with the guys at Artcoustic HQ to ensure the design and specification was correct for the cutting edge Dolby Atmos technology.
The finished system more than delivers on the brief, with Artcoustic Spitfire 6-3 speakers and two Control 3 Subwoofers installed behind the acoustically transparent Screen Excellence 4K screen, and Target SL for surrounds with Architect SL2-1 for the overhead speakers in a 5.1.2 configuration.
The finished result is outstanding! Dolby Atmos 5.1.2 delivered with incredible power and detail through the Artcoustic loudspeaker system, with an installed complete system price tag under £25K.
For more information, please contact Artcoustic.