Home Safeguard Industries is the worlds' leading manufacturer of aerosol smoke alarm testers. Introduced in 1979, 25S Smoke Check™ is the original and still the best product for testing smoke detectors. HSI has built a global presence serving the commercial fire alarm and security industries with our patented test tools and aerosols including Smoke Check™ Smoke Detector Tester™, and NEW CoCheck™, Heat Detector Tester™ and the Versa-Tools™ professional line of test equipment.
Smoke Check™ Smoke Detector Tester™ is UL/ULC Listed and approved by virtually all commercial alarm manufacturers for use on their detectors. It is the most reliable, economical, and effective way to functionally test for smoke entry and meet NFPA 72 and local fire code test requirements.
Smoke Check™ Smoke Detector Tester™ remains the preferred choice of fire safety experts worldwide. Smoke Check™ works with all smoke detector brands and types of optical or ionization detectors. Our patented, proven formula is safe on sensors, non toxic and 100% ozone safe. 25S Smoke Check™ Smoke Detector Tester is 'Green Friendly' and always has been. This product is compliant with the Kyoto and Montreal Protocols as well as all of the California restrictions.
Co Check™, Carbon Monoxide Detector Tester

Home Safeguard Industries (HSI) offers a wide range of professional fire and security alarm testing and maintenance equipment.
Sold under our Smoke Check™ brand name, HSI's smoke detector tester aerosols can be used on both photoelectric and ionization smoke detectors.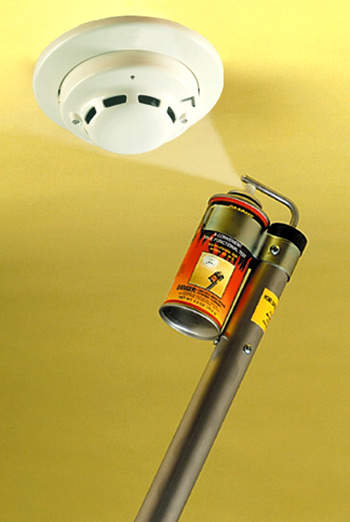 Designed to simulate the effect of rising smoke during a fire, HSI's open delivery technology allows instant access to hard-to-reach smoke detectors.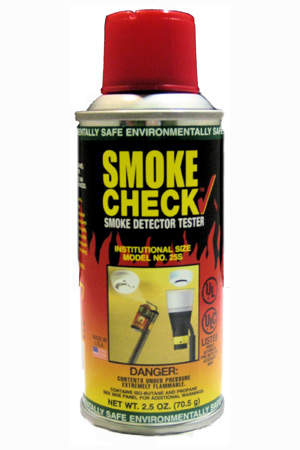 CoCheck™ has been reformulated and released as a 100% All Natural aerosol tester.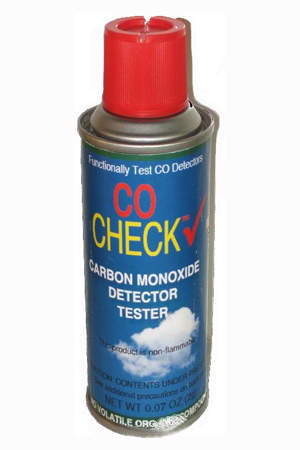 Smoke Check™ Smoke Detector Tester™ remains the preferred choice of fire safety experts worldwide.
Available since 1997, CoCheck™, Carbon Monoxide Detector Tester. Reformulated in 2008 and released as a 100% all-natural aerosol tester, containing only materials found in the air we breathe. Designed to test all wall and ceiling mounted carbon monoxide detectors. CoCheck™ has been designed to work with all Versa-Tools™ Enclosed Delivery test kits as well as the self testing units utilizing the small straw actuator.!
Heat Detector Tester™
Another reliable test product is our Heat Detector Tester™ for testing all rate of rise and rate of rise/fixed temperature combination heat detectors in the 135-190 degrees range. Heat Detector Tester™ is UL Listed. The totally portable, lightweight tester uses an exclusive, disposable heat pad activated by a saline solution as the heat source that is safe, non-toxic, and cost effective. Now you can do away with ladders, heat guns, hair dryers, and costly and cumbersome battery back type units. Versa-Tools™ professional line of test equipment, released in 2004, provides a variety of Open and Enclosed Delivery testing kits with maximum reach of 34ft. (plus height of man). Also available is the UL Listed 1490 Spray Adapter. Using the 1490 helps to better control the aerosol spray particularly in turbulent air conditions. The 18in tube keeps the aerosol at a safe distance from the detector eliminating a direct spray of the sensors.