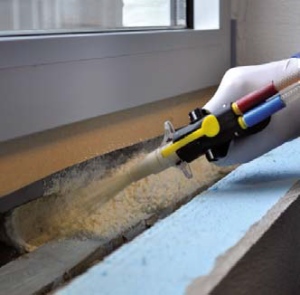 FOPPE Direkt Versand incorporates another attractive product for window fitters and assembly operations into its range with FROTH-PALTM. The in-situ foam for highly insulating foaming keeps its shape with an enormously high pressure resistance of 150kPa. The B2 class product impresses with its good sound and heat insulation and is moisture-resistant.
It is therefore excellently suited for addition load transfer in the parapet area, for lifting and sliding elements or even for under-foaming ground sills. FROTH-PAK can be used on all normal construction subfloors and is impressive with its quick processing. It can be cut, sanded and varnished after just a few minutes. What is remarkable in all assembly works is that FROTHPAK fills all cavities without any pressure so that building components do not distort.
FROTH-PAK shows its great advantages when insulating and mounting window sills and when supporting, sealing and sticking sliding door thresholds, for example. It also scores points when filling in wall cavities, wall and ceiling cracks and seals joints and fissures airtight.
FOPPE Direkt Versand offers an extremely-loadable in situ foam in combination with the new FOPPE heavy-duty insulating sill. This serves the load transfer and sealing of floor level elements. A load-bearing PVC double connecting coat, with a moisture-resistant, securely attached insulating FROTHPAK (0.021 W/m²K) core. As well as the extraordinary insulating sill strength, a sound insulating value of 58dB and the ability to secure floor-level elements against water penetration with the heavy-duty insulating sill are also impressive. This is especially the case for the handicap accessible thresholds. Here, loads that occur when a wheelchair or hospital bed go over them must be observed.
The versatile new two-component PU spray foam rounds off the FOPPE Direkt Versand portfolio and underlines the consequent practice orientation of the specialists from Lengerich for window fitters and assembly operations.