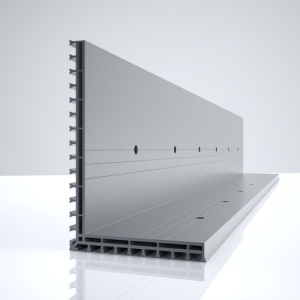 Whether in two-shell masonry or in an external thermal insulation composite system windows and doors, as a rule, are fitted in the insulation plane. FOPPE + FOPPE offers a new mounting system designed to fit them in an economical as well as statically and energetically perfected way.
The FOPPE EMS+SI element mounting system, which the company will present at BAU 2013, is a sophisticated mounting system for windows and doors. It offers a means of connecting the elements in the insulation plane to various curtain wall systems while meeting building physics requirements. A PVC angle with multi-chamber structure is used to extend the reveal opening in the masonry into the insulation plane. The angle section is assembled to make a frame, either running all around or attached to the existing roller shutter casing. Non-positive mounting to the masonry is effected by glueing and screwing. Holes provided on either side of the angle offer a means of observing the statically required edge distances in the masonry.
With the window and door elements, discharge of load takes place mainly vertically via the side-mounted angle sections. This rules out any concentrated loads as they may occur with steel straps: The sections discharge the load over their entire length in a uniformly distributed manner. This optimum force distribution – with no major shearing and leverage forces – allows several hundred kilograms to be mounted in a fixed and secure position.
To adjust the angle to suit the different insulating material thicknesses, it needs only be turned. The 97 and 147mm leg lengths fit most of the wall designs for external wall rehabilitation and new buildings executed to comply with the German Energy Saving Ordinance (EnEV). Full-perimeter welt channels are provided to ensure system integrity. Any foil sheets, vapour barriers and reinforcing fabrics with a welt strip can be fitted directly into the channels immediately and regardless of weather conditions. Installation can be completed regardless of any glueing-related problems as they are encountered in frosty weather or with wet reveals. An alternative way of connecting the window is by making use of the easy-to-install ClearoPAG 167 volume aerosol adhesive which is also available from FOPPE + FOPPE. Where sound insulation is required, ClearoPAG 167 featuring sound reduction values of 60dB (at 0.0352 W/m²K) is an excellent choice. The new mounting angle provides a solid support for window sills and other building components which can be connected and sealed properly in terms of building physics.
FOPPE EMS+SI is suited for masonry of any common type and structure, for multi-shell masonry with facing shell as well as external thermal insulation composite systems (ETICS). Especially in rehabilitation of existing buildings the mounting angle is a real problem solver. It is made of recycled plastic windows, and has their self-extinction properties, and in conjunction with its excellent insulation properties is extremely resource-efficient. For additional stiffening of the frame, segmented metal angle plates can be used which allow easy adjustment at the job site. This offers a means of meeting advanced fire protection specifications, as it is often required with subsequently insulated outer walls. The energy balance will not be compromised. With ETICS, a special fire protection frame can be put on from the outside and fitted flush with the thermal insulation facade.
The new element mounting system adds to the full range of products for energy efficient building envelopes offered by FOPPE + FOPPE. All products are technologically matched and can be combined in a modular system to meet relevant requirements. With the prefabrication know-how of FOPPE + FOPPE included, it adds up to a highly functional, economical solution for high-insulation curtain walls.