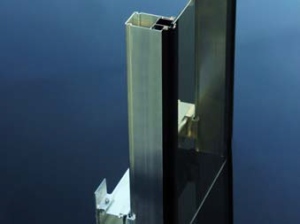 FOPPE + FOPPE presents four systems for a modular overall solution for highly heat-insulated building envelopes under the umbrella brand FOPPE F3. As well as the passive house certified profile for doors and windows HT90+SI, the energetically optimised façade system RP50+SI, and the element assembly system EMS+SI as an insulating and statically high-quality connection for windows and doors to the building body, the metal construction specialist from Lengerich presents a mirror glass insulating façade for energy optimisation of cold façades.
The modular façade system offers a simple and cheap opportunity to heat insulate cold façades retroactively. The curtain-wall insulating façade is made of a snap-together post construction. In this framed mirror glass elements are hung according to the client's optical and technical demands. Similarly to the traditional insulation in a rendered façade, the construction has a sub-insulation of up to 200mm. The frame structure is barely visible; the thin face widths of 25mm and 32mm create an attractive all-glass look that cannot be made using traditional post and bar systems. The elements are prefabricated by FOPPE Metallbaumodule as a construction set according to the fabricator's requirements.
The mirror glass insulating façade complements the complete programme for energy-efficient building envelopes that FOPPE + FOPPE offers. All products are technically tailored to one another and can be combined modularly depending on the requirement. FOPPE + FOPPE's prefabrication expertise creates the most functional, economic solution for highly insulated façades. The solution of highly insulating window connections for mirror glass insulating façades occurs in the combination of the element assembly system EMS+SI.