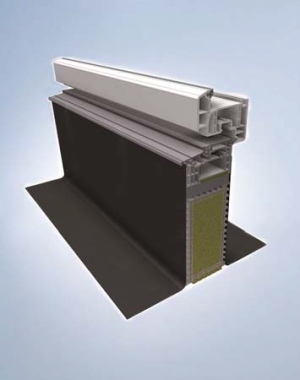 Just in time for the Fensterbau and Frontale trade fair in Nuremberg, FOPPE launches a new system that solves a typical problem in the installation level of floor-length window and door elements. There is often insufficient load transfer on insulation installed onsite. This is important, not least because architects and builders increasingly decide on larger, or rather heavier, door and window elements.
The new FOPPE SLDS system has an extraordinary strength of 150kPa. It consists of two components: a multi-chamber profile load-bearing PVC coat and a moisture-resistant insulating core (0.021W/m²K). With 58dB, the system also shows very good sound insulating properties.
Important for processing: The height can be adjusted easily under the door threshold by simply doubling the blocks with different dimensions. Furthermore, the heavy-duty insulating sill can be cut to any desired mitre. It is secured on foundation strips or concrete slabs with a dowel screw connection or by gluing. The edge sealing can be brought up to the lower edge of the building element on this block sill. Variable side moulding is used for film sealing in insulating sill to brickwork transitions. The film attached perpendicularly with the side moulding base is fed into the brickwork alcoves and recess and glued to the FOPPE SLDS, the door element and building body. The film ends 15cm above the external water-bearing level.
This systematically creates a permanent bearable and leak-proof connection. In this way, the FOPPE SLDS insulating sill provides a secure sealing for floor-level elements, rising water or surface water have no change, this also applies to handicap-accessible buildings.
FOPPE SLDS is available in different sizes and styles. It is based on the tried and tested FOPPE EMS+SI assembly system for windows and doors that enables a structurally clean connection to different façade systems in the insulation level. The FOPPE EMS+SI allows the embrasure opening to continue in the brick work because of a multi-chamber structure PVC bracket in the insulation level. The profile is connected to a frame and applied around or to existing shutter boxes. There is no force-fitted assembly to the brickwork by means of gluing and screwing.
The EMS+SI assembly system was successfully tested in the IFT Rosenheim; it meets the requirements for increased sound protection (45 dB) and is resistance class RC2, previously WK2. The product was, in combination with the aluminium FOPPE HT90+SI profile system for windows, certified as Passive House components.
This economic, as well as statically and energetically well-engineered, solution for fitting windows and doors in double brickwork or heat insulating combined system was the inspiration for developing the new FOPPE SLDS heavy-duty insulation sill.
You can find FOPPE + FOPPE at Fensterbau and Frontale 2014, the trade show for windows, doors and façades, in hall 7A, stand 534.