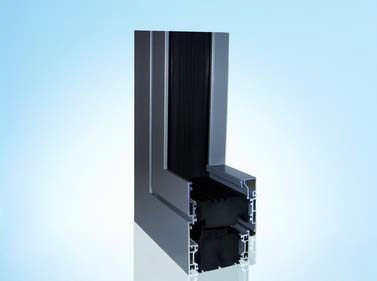 The highly insulated aluminium FOPPE HT90+SI profile for windows and doors has set the benchmark for thermally separated aluminium constructions since its market launch just over a year ago. Now Siegenia and KFV confirm that the system is also high quality for burglary resistance. The profile effortlessly achieves RC 2 classification due to its sturdy construction with an internal polyurethane solid body.
The external and internal shells of the FOPPE system are joined together with a highly insulating polyurethane heating block and polyamide connectors. Unlike traditional connector systems, this ensures high rigidity and shear resistance.
The system's heat-insulating quality was already attested last year with a certificate from the Passive House Institute in Darmstadt. An Uw value of 0.79W/(m2K) was achieved in the standardised test procedures with an insulating glazing with Ug value = 0.70W/(m2K).
Using higher quality glazing meant that the excellent performance could be improved further. For example, a glazing with a Ug value = 0.50W/(m2K) results in a Uw value of 0.67 W/(m2K) for windows and in a Ud value of 0.84 W/(m2K) for doors. Processing the FOPPE HT90+SI profile system is simple and therefore also perfectly suited for smaller companies. Modern machines are not required for the processing. Only a few components need to be assembled. This reduces the work time compared to other systems, and therefore also minimises costs.
The profile system assembly is geared towards all FOPPE profile lines. Self-locking corner connectors enable a quick and simple assembly without special machines. Hermetically sealed corners are achieved by completely sealing the cut surfaces. The profile surfaces are available in wet or powder coating, as well as anodised; internal and external sides can be designed differently. The profile series is extremely long-lasting due to its stable value and the minimum care and maintenance costs. FOPPE draws on the tried and tested system design for all constructions.