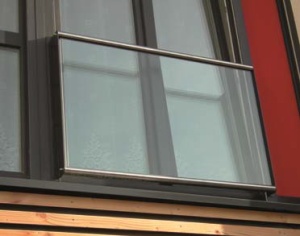 French balconies are becoming increasingly popular. With these structures, all-glass balustrades from FOPPE + FOPPE serve as an invisible safeguard against falling. "French balconies" are a means of structuring the facade and also convey give an impression of the rooms from outside. They are an important architectural stylistic device and let occupants feel as though they are standing in the open. The more transparent the safety barrier is, the more effective the "balcony" looks.
With the new BSG all-glass safety balustrade, FOPPE + FOPPE introduces a barrier which is remarkable for maximum transparency and economic installation. Moreover, the system is designed to fully implement the German technical rules for the use of safety barrier glazing (TRAV); a general approval certificate (abZ) has been obtained. Though the safety barrier is generally mounted on the window frame, it can also be installed in the reveal.
The BSG safety barrier is composed of a laminated safety glass panel, two side-mounted extruded aluminium profiles with sealing lips as well as a glass edge protector for the top edge of the glass. The laminated safety glass panel, formed of two sheets of singlepane safety glass, is available in thicknesses of 2x6mm and 2x8mm. The maximum size of 2x1m approved by building control authorities offers scope for generous layout.
FOPPE + FOPPE will provide the safety barrier as a complete set, with the cut-to-length extruded aluminium profiles and the fastening material configured to match the window design. While the fitter can obtain the glass panel themselves, it can also be procured through FOPPE + FOPPE directly. Furthermore, customers have the option to choose between a slender stainless steel U-profile, or a guard rail for the top edge of the glass.
The aluminium profiles are available with powder coat or anodized finishes or in stainless steel look. Featuring a width of 56mm, they are tailored to match all common frame designs. Using pockets milled at the rear side, they are slipped onto concealed fixing plugs fitted into the window frame. For profile frames, fixing plugs of a cavity bridging design are provided. PVC frames must feature a reinforcement profile. Installation can be carried out quickly and economically: simply slide on the side-mounted aluminium profiles and hang up the element.
The BSG all-glass balustrade will look particularly striking when combined with the ESSENZA series tilt-and-turn window – another new product FOPPE + FOPPE will introduce at BAU 2013. The ESSENZA all-glass window system with tilt-and-turn mechanism is the first of its kind in the marketplace. It is suited for installation in glass facades of office and residential buildings.
Specifications for planning and mounting of the BSG balustrade are freely available on the FOPPE + FOPPE website. The FOPPE + FOPPE specialists are available to provide more detailed information also by phone.