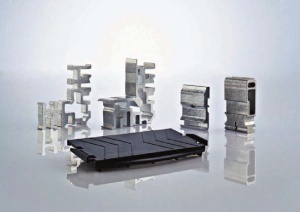 Any system is only as good as its component parts: system construction using extruded profiles therefore must stand or fall on the quality of the cleats used and their efficient handling, among other things.
As a supplier to the metal and window construction sector, FOPPE ZUBEHÖR has been designing and manufacturing corner cleats and T-cleats for extruded aluminium profiles for more than 20 years. The focus has always been on the design and development of multisystem solutions. This offers major advantages in particular for fabricators of the systems of Schüco, Heroal, Alcoa/Kawneer as well as other well-known systems. In the fabrication process, use can be made of the tools of the above system providers, and all common fabrication methods can be employed, such as punching, nailing, or gluing before and after joining of the profile joints.
As regards safety, all material requirements are being met when FOPPE cleats are used. The alloy of the cleats is equivalent to material group 1, and the tolerances on dimensions and form meet the requirements of EN 12020-2 (DIN 17615) or EN 755-9 (DIN 1748), respectively. The IFT Rosenheim testing institute was commissioned to perform extensive equivalence tests of FOPPE corner cleats and T-cleats, and they all achieved excellent test results. Moreover, FOPPE offers customers product liability which goes far beyond liability for potential damage caused to the products. Customers will be indemnified also against any additional expense incurred in the event of a loss or damage – such as for painting and cleaning work.
A special service offered by FOPPE ZUBEHÖR is daily shipment – also for small numbers of project-specific items. For security of ordering the FOPPE master data for the LogiKal, PROMET or NetSoft software are used to identify the matching cleats and system accessories. It takes just a mouse click to determine the part number of the system compatible accessories and to display availability.
As a manufacturer FOPPE ZUBEHÖR can also offer customised cleats for pipes and project-specific profiles – at short notice and at fair prices.The option of ordering exact quantities and the multi-system joining technology help fabricators make enormous savings in the fields of materials and inventory and serve to strengthen the competitive position. FOPPE ZUBEHÖR supports large-scale projects by offering lucrative project conditions.