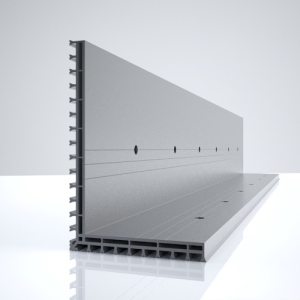 The FOPPE EMS+SI assembly system introduced a year ago has experienced very positive feedback on the market. Developed from practical experience, the solution enables an economic, as well as statically and energetically sound fixture for windows and doors in the insulation base. The German institute for window technology (Institut für Fenstertechnik) ift Rosenheim has subjected the system to all relevant tests. As well as the required load, driving rain and leak tests, EMS+SI meets the requirements for increased soundproofing, too (45dB). Meanwhile, ift Rosenheim also gave it resistance class RC2, previously WK2. With this, the assembly system now meets all requirements with regard to stability, sealing and security.
The element assembly system complements the complete programme for energy-efficient building envelopes offered by FOPPE + FOPPE. The FOPPE heavy-duty insulating sill, the FOPPE insulating frame and the FOPPE soundproofing frame are amongst the new additions to the range.
All products are technically tailored to one another and can be combined modularly depending on the requirement. FOPPE + FOPPE's prefabrication expertise creates the most functional, economic solution for highly-insulated façades.