DORMA offers automatic and manual revolving, sliding and swing doors as well as specialist space saving doors and a complete range of glass solutions. Entrance and shop fronts are a DORMA specialty, with a wide range of doors to suit every application. DORMA also manufacture and install an extensive movable wall range and all of our products, along with those of other manufacturers are backed up by a 24/7 service division.
AUTOMATIC SLIDING DOOR OPERATOR
The new DORMA ES 200 automatic sliding door operator offers a range of features that not only makes it the ideal automatic unit for every sliding door application, but it also sets standards for others to follow. Combining innovative technology with a fresh visual appearance the DORMA ES 200 offers great flexibility to complement any design. Available in three different cover sizes (200mm, 150mm and 100mm) the unit is ideal for both new installations and retrofit projects.
AUTOMATIC SWING DOOR OPERATOR
The DORMA ED 200 is an all purpose automatic swing door system which is ideal for both internal and external doors. A compact swing door operator, ED 200, is perfect for both new build and retro-fitting to existing doors. It is encased in an attractive Softline cover or, alternatively, pairs of ED 200 operators can be housed in a continuous aluminium cover, thereby offering complete design flexibility.
FOLDING DOORS
DORMA FFT is a complete door system powered by the highly reliable DORMA ES sliding operator. An important feature of the FFT folding door is that it occupies the minimum of the door opening width and extremely little in depth. This makes it especially suitable for narrow door openings and passageways, and for other locations where space is limited.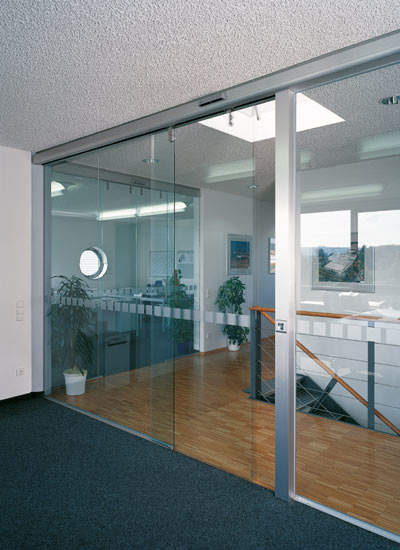 ES 200 sliding door operator.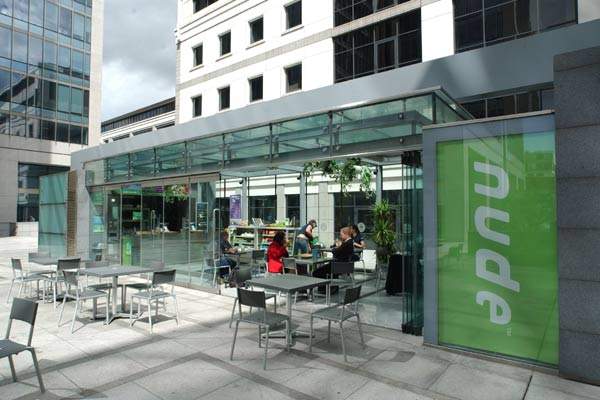 HSW sliding glass partition system.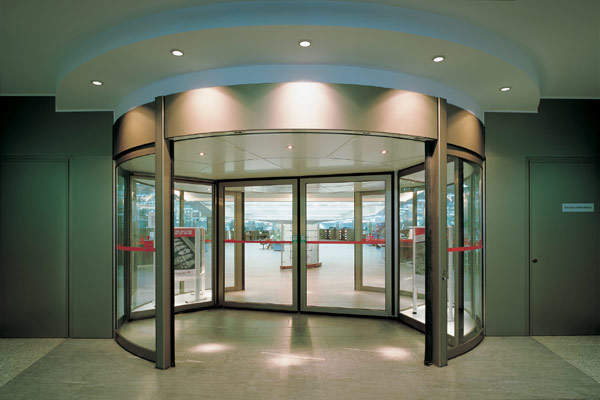 KTC revolving door system.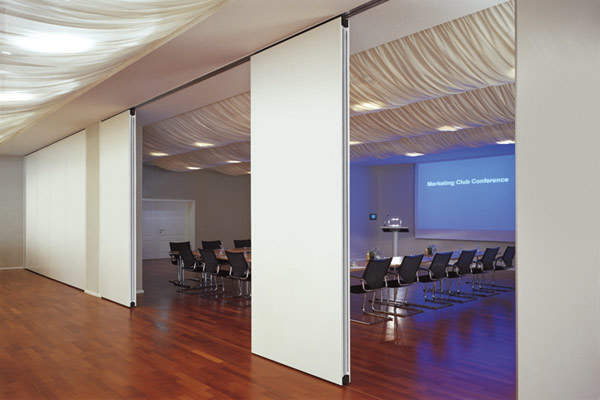 MOVEO movable wall system.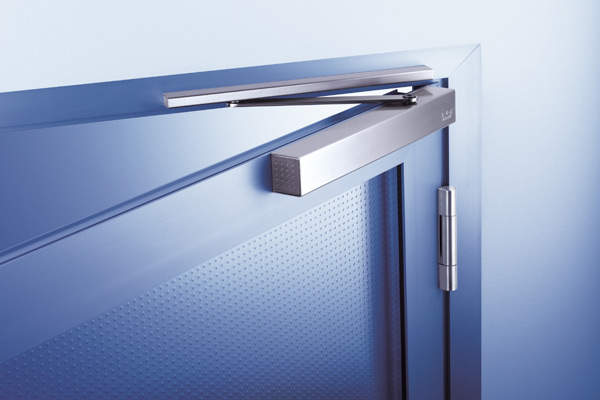 TS 97 cam action door closer.
SPACE-SAVING DOOR OPERATORS
The unique swivelling action, elegant design and excellent space-saving characteristics have resulted in DORMA RST being the choice of the discerning designer. The supporting structure and the open door occupy only a hand's breadth, and even at it's maximum, the sweep of the door is only a few centimetres outside the door-line.
MANUAL AND AUTOMATIC REVOLVING DOORS
DORMA revolving doors create an impressive entrance to a building that is ideal for use in high traffic areas such as hotels, offices, shopping centres, supermarkets and airports. Our two ranges of revolving doors consist of the KTV (manual, positional, servo-assist or fully automatic) and the KTC (automatic system).
DOOR CONTROLS
In the door controls and ironmongery industry DORMA is justifiably renowned as the market leader. Our door closers, locks, fire protection systems and panic hardware set the benchmark. The TS 97's high technological quality is matched in full by its impressive design credentials. The straight lines of its cubic form exude elegant compactness, and – as a characteristic feature of this particular system – the closer body and slide channel are of identical length. The single piece faceplate has no slots or fixing-points and even the end caps are flush. All the clearance and gap dimensions have been reduced to a minimum. With a wide range of surface finishes available, the TS 97 can be ideally adapted to suit any décor.
GLASS DOORS AND ASSEMBLIES
DORMA's glass doors and assemblies include the HSW-EM, an innovative automatic glass sliding shopfront and partition system which enables architects and designers to create entrances and display windows which can melt away into thin air at the touch of a button. Whenever the proprietor decides, the panels can be moved away with no effort, taking away the barrier between potential customers and the shop's goods and services. The system is also available as a manual system (HSW) with the panels being moved by hand into the stacking area.
MOVEO MOVABLE WALLS
The movable walls division of DORMA UK offers a range of space enhancing systems for every type of environment, from retail to commercial. MOVEO, the most popular product range in our movable walls division offers three product lines with a range of finishes from our Design, Classic and Functional collections. MOVEO is an exceptionally unique, lightweight, flexible and easy to operate movable wall solution. The MOVEO system features narrow and discrete ceiling tracks and a ComforTronic® semi-automatic seal strip control system. With panels in place and sealing strips fully extended, MOVEO movable walls provide an acoustic value of up to 55dB.