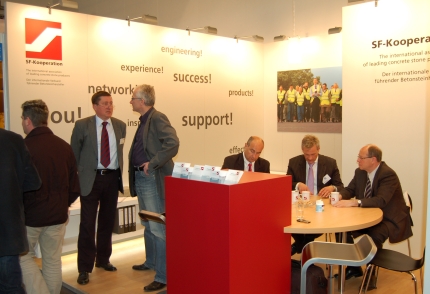 The group of leading manufacturers of concrete paving systems will again have its own information stand at the Fair Bauma 2013 in Munich, Germany.
Bauma features more than 500,000m² (5,382,131ft²) of exhibition space, making it by far the largest and certainly the most impressive exhibition ever. No other industry event features a wider range of products and services. No other exhibition is more international. This is where all of the market's leading manufacturers and key players are represented. The trade fair will take place 15 to 21 April 21.
SF-Kooperation would like to inform you about the advantages of the cooperation and license business. Of course, the latest product developments will not be left out either. For example, ECOPREC, a new laying method for better stabilised pavements will be showcased.
We would be very pleased for you to visit and will be happy to give you more information.
Visit us in hall B1, at stand number 108.