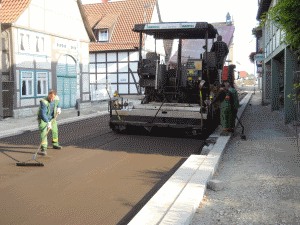 Refurbishment of the main thoroughfare in Lügde: 4,500m2 VS 5 paver installed using the ECOPREC method
The next project section, Brückenstrasse, still awaits repair, but the refurbishment of Mittlere Strasse is now complete. Where? In Germany's largest ECOPREC installation site to date, in Lügde, a small town in North Rhine-Westphalia, Germany, with a population of approximately 10,500 inhabitants.
Only a few years ago, some 13,000 vehicles drove through the historic town centre every day. Many residents and businesspeople capitulated and left the town. The population figure had dropped by 10 per cent by 2008.
The local authority wants to prevent further out-migration and more empty shops by means of a number of urban design improvements. Two highly frequented streets in the town centre are being refurbished and made less noisy by traffic-calming measures with a view to breathing new life into the town centre.
The cost of the project, approx. € 1.9 million, is being split between North Rhine-Westphalia and the German government on the one hand (65%) and Lügde's municipal council on the other (35%).
The local council and the building supervision authority gave the green light for the project to refurbish Mittlere Strasse, the town's main thoroughfare, and Brückenstrasse in May 2012. The project was divided into seven construction phases: five for Mittlere Strasse and two for Brückenstrasse.
The first stretch of ECOPREC paving, comprising a bituminous bedding layer and VS 5 pavers, was installed in July 2012. SF-Kooperation was on site, together with the concrete manufacturer, to supervise the mixing and installation process. The work has so far gone to plan, and the local authority and all contractors involved are very satisfied with the result.