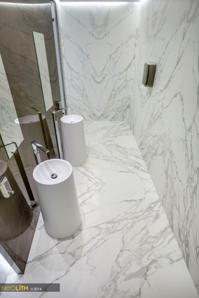 Neolith Calacatta by TheSize has been awarded the prestigious Red Dot award for Product Design in 2015.
The international jury of experts recognised the innovation and excellent design quality of this unique manmade décor, which provides an exclusive and delicate design of luxurious white marbles from Carrara combined with the inherent high-tech properties of sintered compact surfaces.
TheSize marketing project manager Mar Esteve said: "We are delighted and honoured to receive this esteemed award."
"When TheSize was founded in 2009, we had the objective of creating a new material category and provide architects and designers with a high-end compact surface with revolutionary physical and technical features.
"The Red Dot Award is the recognition of our research and development efforts, and it will help position our product as the leading brand in the architecture and design community, reinforcing our innovation and technology focus."
The Red Dot awards for Product Design is one of the industry's most renowned and competitive ceremonies, with brands such as Mazda, Logitech, Philips, Victorinox, or Audi winning awards. In 2015, 4,928 innovative products were submitted to the 38-member jury of experts, including Malaysian-born star designer Jimmy Choo, German materials expert Sascha Peters, tangerine founder Martin Darbyshire from the UK, and German product design icon Professor Werner Aisslinger.
The Red Dot Gala will take place at the Essen Opera House, Germany, on 29 June 2015.
From 30 June to 26 July 2015, Neolith Calacatta by TheSize will be exhibited at the Red Dot Design Museum Essen.